Earth, wind, green heart
Sony Ericsson Hazel review: Earth, wind, green heart

Great telephony
Handling of calls is excellent and we didn't experience any voice quality or reception issues with the Sony Ericsson Hazel. Call clarity is great in both the earpiece and speakerphone.
The Hazel uses the company's proprietary NoiseShield technology for active noise cancellation. The option for toggling that on and off is only available during a call.
In reality it does a nice job. If you are in a high-traffic street turning the shield on will reduce the ambient sounds up to 60-70%, without muffling your voice. Nicely done!
The Hazel offers video-call functionality and, unlike the Elm, it also features a front-facing camera.
Smart dialing or "Smart Search" as Sony Ericsson call it, is a great boost to usability. It looks up contacts whose numbers contain the digits you have typed or whose names begin with the corresponding letters.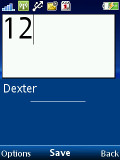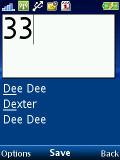 Smart dialing makes life easier
The tabbed Call Log application should be familiar too if you've used a fairly recent Sony Ericsson handset. It uses four tabs for All, Answered (Received), Dialed and Missed. When there are several calls made to or from a single contact, only the last one gets displayed.
We ran our traditional speakerphone test with the Sony Ericsson Hazel. However, the maximum volume was a bit disappointing and the device scored below average. Here is how it compares to some of the other handsets we have tested.
| | | | | |
| --- | --- | --- | --- | --- |
| Speakerphone test | Voice, dB | Pink noise/ Music, dB | Ringing phone, dB | Overall score |
| Sony Ericsson Hazel | 65.6 | 62.3 | 66.5 | Below Average |
| Sony Ericsson Elm | 65.7 | 66.2 | 66.6 | Below Average |
| Sony Ericsson C901 | 66.5 | 65.1 | 71.7 | Average |
| Nokia 6700 classic | 75.1 | 66.6 | 75.7 | Good |
| Nokia 6700 slide | 75.5 | 65.8 | 82.7 | Very Good |
| HTC Touch2 | 75.7 | 75.7 | 82.7 | Excellent |
You can find more information about the test itself and the whole list of tested devices here.
Messaging is fine
Typical of the latest Sony Ericsson phones, the Hazel sports the threaded message view. SMS to and from a certain contact is organized in speech bubbles much like in an instant messenger.
Switching between the conversation-style layout and the regular Inbox is only a matter of toggling a tab.
Another interesting fact is that if you get a reply while you're still in the thread, it will be automatically added to the conversation just like a chat, instead of appearing as an alert on the home screen.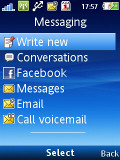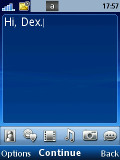 The Hazel messaging department
Along with the standard messaging functionality, Sony Ericsson Hazel offers the proprietary Manage Messages feature, plenty of settings for accounts and the option to assign categories to messages.
The Manage Messages application enhances message handling. Messages can be moved to memory card or phone memory, arranged by categories, date, size, and contact. Categories also allow quick and comfortable sorting of messages with separate folders.
There is of course predictive typing. The SMS and MMS messages share an editor; when composing SMS you can easily convert it into an MMS via the options menu or using the attach-stuff toolbar below the text box to insert images, animations, videos or sounds.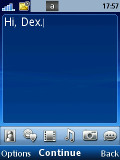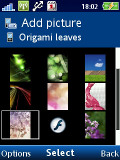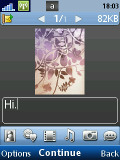 Converting an SMS into a MMS is as easy as it gets
The phone automatically retrieved the settings for our Gmail account. The options to view messages full screen and change font size really helped get a lot of text on the screen. Even at the smallest font setting text remained legible.
For email you get the Manage Email feature, which has the same functionality as the one for text messages. Saving attachments is problem-free, even if the file type is incompatible with the phone.
Unfortunately, the Sony Ericsson Hazel (much like all other Sony Ericsson feature phones) can't preview any documents including the ones attached to emails (such as .xls, .doc, or .pdf files for example) due to the lack of a document reader.