Update: You can check our live shots of the Sony Ericsson Jalou over at its gallery on the specs page.
Remember the Sony Ericsson Jalou? Well, the photo may have been a fake, but the Jalou is the real deal. It's a fashion phone with a jewel-inspired design and with a limited Dolce&Gabbana edition just around the corner.
The Jalou is a petite clamshell - just 73 mm tall when closed - and weighs the handbag-friendly 84 grams. The internal display has a special finish that allows it to double as a mirror - how thoughtful! Jalou will be available in attractive gem colors like Onyx Black, Aquamarine Blue and Deep Amethyst.
The Sony Ericsson Jalou will have a limited, Dolce&Gabbana-branded edition giving it serious fashion cred. It will have all the techy features of the regular Jalou but elements like 24 carat gold plating and Sparkling Rose color scheme make it exclusive. There's also preloaded content like photos and videos of the 2010 Autumn/Winter runway show including backstage footage. Specially crafted wallpapers and themes are a given as well.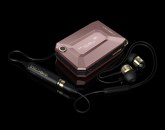 Sony Ericsson Jalou Dolce&Gabbana edition
The Dolce&Gabbana Jalou will serve as more than just a fashion accessory - with an RSS feed from a special blog you'll instantly get updates on the latest trends, news and gossip. Stefano Gabbana and Domenico Dolce themselves will be crafting an ad campaign, which will start October, to promote the Jalou.
Quite expectedly with the Sony Ericsson Jalou the high-end specs sheet was obviously not a priority - it measures the hefty 18.2mm in thickness and features a 2-inch QVGA screen (with a monochrome one on the outside) as well as a 3 megapixel camera without auto focus.
A NetFront browser and YouTube application as well as Google search application put the tri-band HSPA in gear with GPS (US version only) and Google Maps rounding it off. Oh, and after you've checked your makeup using the Jalou's internal screen, a video call is just a few key presses away. Threaded SMS, email, instant messaging is the other way to keep you in contact with friends.
Both editions of the Jalou will be out in the fourth quarter of 2009 with the Dolce&Gabbana edition available exclusively in Sparkling Rose. No word on pricing though - just as usual.
Source: Sony Ericsson, Dolce&Gabbana edition
A
I have it in pink, the D&G edition ! Love it !!
s
Pink is not yet available in market u can book it in online i guess,....
s
awesome and sexy handset,,,,i just gifted dis cell to my gal frnd yesterday and she is just enjoyn by usin it..... thank u folks txt me @ 9964550000,,,to share more abt dis handset,,, cya
ADVERTISEMENTS