5 MP Phone-and-Shoot
Sony Ericsson K850 review: 5 megapixel Phone-and-Shoot

We called Sony Ericsson K810 the rebirth of the Cyber-shot. We're now looking at a great leap forward in developing the company's cameraphone lineup in the face of the glamorous Sony Ericsson K850. It brings a bunch of novelties in design, navigation and functionality. The quality 5 megapixel camera enhanced with camerawise hardware buttons, along with the brand new Media Center application, make the Sony Ericsson K850 a landmark product in the company portfolio.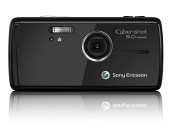 Sony Ericsson K850 official pictures
Key features
5 MP autofocus camera with automatic lens cap and three dedicated hardware keys
Tri-band HSDPA (3.6 Mb), EDGE.
New Media Center, smart search, Manage Messages application
Monolith body with digicam-like battery cover
Brand new three soft keys
Innovative D-pad layout
Dedicated call and end keys
Large crystal-clear 2.2" display
Memory card slot with dual card support and hot swap functionality
FM radio with RDS
Bluetooth (with A2DP)
Multi-tasking support
Main disadvantages
Awkward D-pad
Dust easily accumulates behind the protective lens cover
Reversed soft key funtions, atypical for Sony Ericsson
No Wi-Fi and infrared
Fingerprint magnet
In June Sony Ericsson revealed its hottest addition to the Cyber-shot line: Sony Ericsson K850. The phone was labeled a milestone product not only for the Cyber-shot family, but for the entire Sony Ericsson portfolio. It is clear why it scores high with its wealth of features using the latest technologies. The K850 brings several brand new software and hardware solutions we pay special attention to later on. Make sure you keep in mind the three Cyber-shot handsets we reviewed most recently - the budget Sony Ericsson K550, the high-born Sony Ericsson K800 and its successful inheritor Sony Ericsson K810.
o
yeah! i think the same but i'm in mexico and with the covid its so difficult to bring them from USA
a
im just wondering where i can still buy ds phone here in the phillipines. i want ds phone so bad.