Poor video player
The video player is simple in looks and functionality. You get a list of all videos stored in the inbuilt Video folders and the memory card as well as play/pause, skip controls, and a draggable progress bar.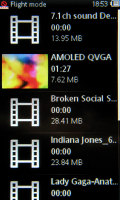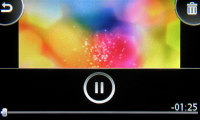 The video player is as simple as it gets
As far as playback support is concerned, QVGA MP4 videos are as good as it gets. The Mix Walkman cannot play DivX/XviD or AVI files.
The Walkman player could have been better
The Walkman player interface is almost identical to the one we've seen on the Android-powered XPERIA family, save for the Walkman logo replacing the Infinite button in the upper part of the screen.
In order to be able to listen to the music stored in your device or on the memory card, you have to move the files to the Music folder. Sound familiar, eh?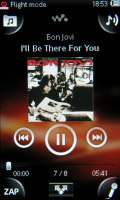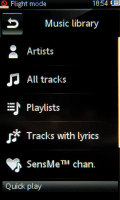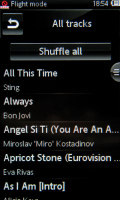 The music player is decent looking and snappy
There is no equalizer option in the Mix Walkman and playlists are not supported either. The Mix Walkman arranges your music by artist or you can see the most played tracks, the new additions or all tracks.
Shuffle is enabled but you can't make the Walkman player repeat a track. Even regular dumbphones can do that, can't they?!
At least the TrackID service is there. Its user interface is as simple as it gets – just tap the "Record" button, record a short sample of a song from any external source and let the app find the artist and track information for you.
There are two new features in this Walkman player though: Karaoke and ZAP. The Karaoke shortcut is found at the bottom right corner of the Now Playing screen. Press it and it will mute the vocals and – ideally – display the lyrics the way a proper karaoke system would. For the karaoke to work, you need the load the lyrics as a TXT or LRC file to the phone in Mass Storage mode.
Zappin is another of the new Walkman features. You turn it with the ZAP button at the top of the phone. Turning Zappin on will let you preview the tracks in your playlist by playing 4 or 15 seconds of the track's chorus. Once you've found the one you want, pressing the ZAP key again will turn Zappin off and the current track will start the track from the beginning.
Unfortunately, the Mix Walkman does not have support for WAV playback (or any uncompressed audio actually), so we could not perform our traditional audio quality test.
FM radio
The Sony Ericsson Mix Walkman is also equipped with an FM radio, which has a really neat and simple interface. It automatically scans the area for the available stations and places "notches" on the frequency dial for easier skipping to the next station. Or you can mark some of them as favorite for quicker access.