A smart sharp-shooter
Sony Ericsson P1 review: A smart sharp-shooter

A snap or more…
The Sony Ericsson P1 is equipped with a 3.2 megapixel camera with autofocus and a dual-LED flash. It has a dedicated macro mode, which produces nice and crisp images with great focus.
We won't comment much on the picture quality since we are rather convinced that the final, retail version of the smartphone would have the camera quality improved. We now can see that P1 shows good resolution, but the automatic white balance is unreliable. Nevertheless, we still find these samples good enough to share them with you. We expect that when launched Sony Ericsson P1 will produce images almost as good as K800/K810 models. The lack of the famous Cybershot logo is not something to mourn about. However, we think that the UIQ3 camera interface will never be as responsive as the one of the abovementioned models.

























Sony Ericsson P1 sample pictures in full resolution





Sony Ericsson P1 photos downsampled to 1024x768 pixels
The camera interface reminds a lot the interface of the latest Sony Ericsson phones and has a rather similar graphics and functions, but unfortunately is not as snappy as the one used in their feature phones. The highest resolution available is 2048 x 1536 pixels, which practically shows that the 3.2 megapixel sign on the camera is a marketing gimmick as the real resolution of the photos is 3 megapixel. There are three quality levels and the camera has a full automatic exposure control but offers nice manual overexposure control accessible from the main viewfinder interface.
As we already mentioned, the autofocus has a dedicated macro mode. You can even turn the autofocus off and use a fixed focal length in case you do not like the camera focus lag. The camera offers automatic white balance but there are four other presets you can choose from, depending on the environment. There are several color effects you can apply to the pictures and video, such as Black & white, Sepia, Solarization and Negative.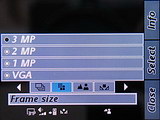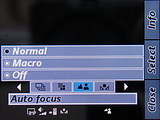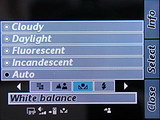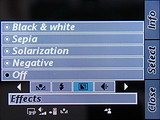 Camera settings: resolution • auto focus • white balance • color effects
Similarly to Sony Ericsson P990, the Sony Ericsson P1 can capture video with a maximal resolution of 320 x 240 pixels at 15 fps. There are mobile phones on the market capable of recording video in VGA resolution - not to mention the Nokia N93, which captures VGA resolution videos at 30 fps while providing full smartphone capabilities. This resolution might be considered somewhat adequate if it wasn't for the low frame rate. Lower resolutions though allow recording at 30 fps. The output files are recorded in either 3GPP or MPEG-4 format. The video recording time is limited by the available memory only.
| | |
| --- | --- |
| Somehow, the smartphone platform cannot really use the stylus efficiently as much as PocketPC does and it turns into more of a deterrent since you have to use both your hands to do things you could have easily done with a simple joystick or a D-pad if one was available. | ADVERTISEMENTS |
The video capturing is a serious downside for a smartphone intended to be an all-in-one multimedia device such as Sony Ericsson P1.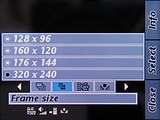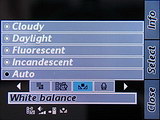 Available resolutions • video length setting
Sony Ericsson P1 sample video, one more, and one more
Using the front VGA video calls camera was easy since it offers a rather intuitive interface. A nice thing is that you choose the rear main camera for video calls, which practically means that you can show the other call party your surroundings with an ease. The video calls camera also has a dedicated Night mode. Generally, when it comes to video calls, the P1 Video phone application manages well enough.
3G comes easy
When it comes to connecting the Sony Ericsson P1 smartphone to a computer or other devices, you have various options. You can use the integrated Infrared port, a USB cable or the Bluetooth 2.0 functionality. Connecting the smartphone to a PC via the Bluetooth worked like a charm. The Bluetooth capabilities of the device include support for the A2DP profile, which allows you to use a stereo Bluetooth headset for listening to music.
Synchronization with the PC or remote server via SyncML also works seamlessly. The user can choose items to be synchronized.
Besides Infrared and Bluetooth, the P1 has tri-band GSM/UMTS support (GSM 900/1800/1900) and supports GPRS for fast data transfers in non-3G enabled networks. EDGE support lacks here as it does in previous smartphones. The Wi-Fi support is among its great advantages too. The integrated connection manager does pretty well with managing the available connection you have set. For example, when you have several connectivity accounts available at the same time, such as Bluetooth, WLAN and UMTS, you can set priority over their usage according to your wishes. This is something that S60 user interface smartphones are unable to offer.
The Sony Ericsson P1 comes equipped with the Opera 8.0 Web browser, which has made a reputation as one of the best for mobile devices. It supports HTML, XHTML, JavaScript, frames, CSS, and TSL and SSL security protocols. It's not on par with the Nokia web browser but it surely renders pages fast enough and offers rich view options.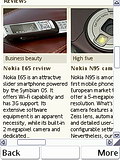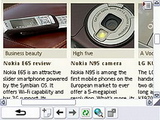 GSMArena.com: portrait and landscape mode
Users can quickly and easily switch between portrait and landscape modes as well as change from a windowed view to a fullscreen view. Furthermore, you can use the Text mode option to reformat pages to exclude pictures and thus save some of those precious megabytes you pay your network carrier for. A nice feature is the Find option, which allows you to search a text string in the page you have opened. You can hardly see that in other mobile browsers.
Your planner
The Alarms are part of the Time application, we already wrote about. It is nothing special really but it does its job more than satisfactory. You can set a ringtone of your choice as an Alarm sound or you can have a given radio station to wake you.
The functionality of the Calendar application is at a good level. You can choose between monthly, weekly and daily view and two time zones. The available events that you can store are Appointment, Reminder, All day event, and Anniversary. The birthday can be recorded as an Anniversary event since those events are repeated automatically through the years. There are a lot of user-configurable options at your disposal.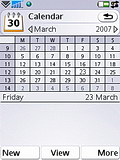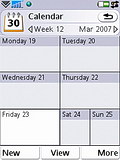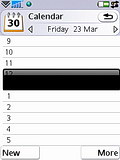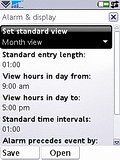 Calendar: monthly, weekly and daily view • calendar settings
As with any other Sony Ericsson phones you have two other applications to organize your daily routine - that is the Tasks and Notes applications. The Task one allows you to enter simple events that do not require extensive setups as the ones in the Calendar. The Notes application allows saving short notes as the name itself implies. The interesting thing here is that the notes can be in handwritten form.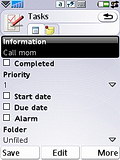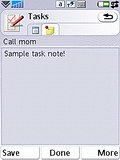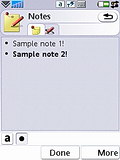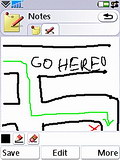 Tasks • task note • normal note • handwritten note
The P1 also offers a nicely designed Calculator, Unit converter and a Sound Recorder with a recording time only limited by the available memory. Sony Ericsson has decided to leave the MusicDJ application seen on almost all of their mobile phones - it allows you to create polyphonic ringtones within a simple user interface. For an unknown reason the VideoDJ application seen on some of the latest Sony Ericsson mobiles also lacks here.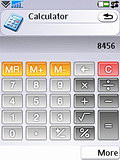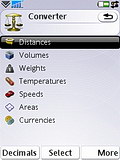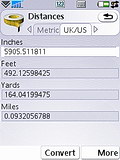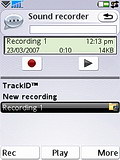 Calculator • Unit converter • Sound recorder
Maybe this is the most appropriate place to say a few things about the Task Manager, which is something of a separate application although fully integrated into the OS. The Task Manager icon is available in the upper right angle of the screen almost throughout the whole smartphone interface. You probably have noticed that on almost all of our screenshots. Unfortunately, the icon itself is so small that the only way to press it is by using the stylus.
The Task Manager has two tabs - the first and default one, which you see whenever you open the Manager contains shortcuts to the Main Menu and the Standby as well as access to the recently used application. The second tab of the Task Manager contains all the currently running applications and allows you to terminate them - unfortunately only one by one.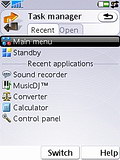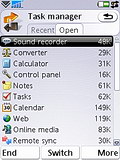 Shortcut tab of the Manager • Running applications tab
The Sony Ericsson P1 also comes with the Quickoffice application, which would allow it to open and even edit MS Word, MS Excel and MS Powerpoint documents. The PDF+ application allows reading of PDF files. However, it renders files rather too slowly - not anything like the Acrobat Reader LE we saw in Nokia E61i.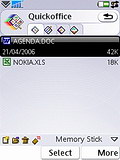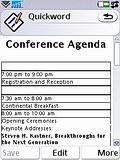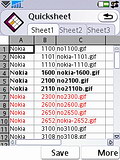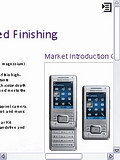 Quickoffice application • Opening a Word and Excel file • PDF+ application
Let's do some golfing
The Sony Ericsson P1 comes with two preinstalled games. The first one is the Java-based Tetris-like QuadraPop game seen on many other Sony Ericsson phones. The second game is Vijay Singh Pro Golf 3D, which you might have seen on Sony Ericsson P990. It was first developed by Gameloft in order to show the capabilities of the true graphics hardware accelerator, present in P990. Obviously similar hardware is used in P1, too. We must admit that the game boasts stunning graphics and animation - that is for a mobile phone, of course. It offers seamless shifts between camera angles and your viewpoint shifts at least twice on every stroke, highlighting different parts of the shot.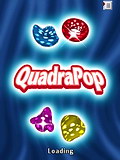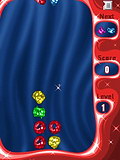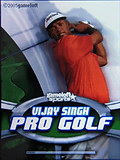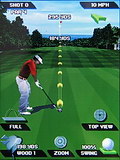 QuadraPop • Vijay Singh Pro Golf
Final words
Summing it up, the Sony Ericsson P1 offers more than every other Sony Ericsson smartphone before. Positive changes are noticeable both in system performance and in the hardware equipment. In terms of software, the handset is identical to the previous UIQ 3 handsets and when compared to Nokia S60 smartphones it does lose only on Internet calls capabilities, which are much more developed in the latest S60 mobiles. Apart from that, the Sony Ericsson P1 could have put up a very good fight with every competing messenger device currently on the market if it were not for the inconvenient keyboard solution.
Whether you should choose UIQ for your next smartphone is a matter of discussion and according to us the most controversial point of argument should be the touchscreen functionality. We feel that the toll it takes on navigation usability is greater than the added benefit of handwriting recognition, which is the only feature that really can justify the use of a stylus. Somehow, the smartphone platform cannot really use the stylus efficiently as much as PocketPC does and it turns into more of a deterrent since you have to use both your hands to do things you could have easily done with a simple joystick or a D-pad if one was available.