The Chinese MSN website has a rather extensive Sony Ericsson models list in their Downloads section for the Windows Live Messenger plus some that are not yet released. It seems the Chinese are ahead of everyone else when it comes to the latest upcoming models Sony Ericsson P3, Sony Ericsson M610 and also Motorola E9.
The Sony Ericsson handsets seem a long way from official announcement however we've already seen similar prototype photos of P3 six months ago. And it still looks fake enough with that fullscreen Walkman logo. No specs are known yet, however if there's even a slight truth in those pictures, the next Sony Ericsson smartphones will again have the bar form factor plus the dreadful QWERTY keyboard first used in Sony Ericsson M600.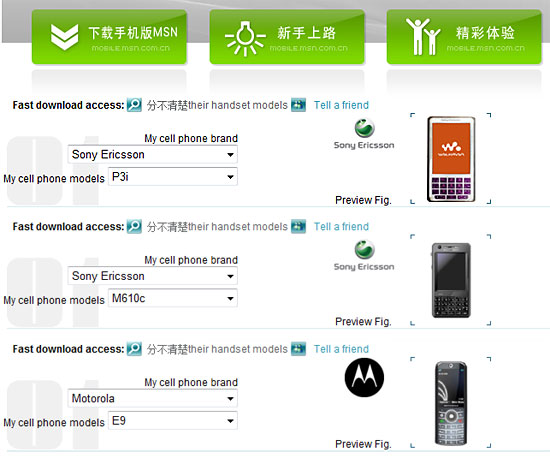 The Motorola E9 is also among the handsets spotted at the same website - it's again a rumored handset that still hasn't been officially announced.
K
The P1 keyboard is excellent.
g
I think this is the site where all began.... http://www.mobil.se/ArticlePages/200705/25/20070525144318_MOB439/20070525144318_MOB439.dbp.asp
ADVERTISEMENTS