Images of the Sony Ericsson P5 leaked again online. This time they are much better - the currently rumored specs remain confirmed - 5 megapixel camera, GPS, a 2.6-inch touch-screen display and a "heart-breaking" QW-ER-TY keyboard like the one of Sony Ericsson M600. Obviously the announcement of the Sony Ericsson future flagship is just behind the corner.
According to the person who has taken the photos, the performance of the 5 megapixel auto focus camera is not up to scratch yet with sever color problems, but we are sure those will be fixed in the retail version of the Sony Ericsson P5.





Sony Ericsson P5 - 5 megapixel camera
As you probably know the Sony Ericsson P5 is equipped with built-in GPS receiver - the supplied navigation solution is a tweaked version of the WayFinder Navigator. Since the WayFinder Navigator is a trial version, GoogleMaps also comes pre-installed. Unfortunately at this stage the sensitivity of the GPS receiver is rather poor - way worse than the one of the Sony Ericsson C702 or Nokia handsets.
Below the display of the Sony Ericsson P5 there is a row of touch-sensitive keys which are in fact shortcuts to some of the applications. Most of them have something to do with the web browser (a promise of an enhanced web experience perhaps) and there's a key to take you to either the main menu or upon a longer press - to the task manager. Seems like the user-friendliness of these keys is hampered by their small size and low responsiveness.




Sony Ericsson P5 - touch-sensitive keys • QWERTY keyboard • compared to Neonode 2
The author of the images says that the improvements of the new UIQ 3.3 user interface that the Sony Ericsson P5 comes with are not visible at first glance but we see a definite face lift on the posted screenshots. The multimedia performance however seems improved, along with the better responsiveness in the messaging and most system applications.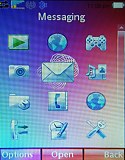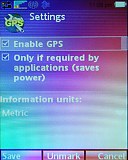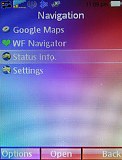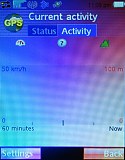 Sony Ericsson P5 - the new UIQ 3.3 user interface and the GPS navigation menu
The Swiss Manager application reveals that the Sony Ericsson P5 runs on the same 208 MHz CPU as previous Sony Ericsson models. The amount of RAM installed is also the same - 128MB.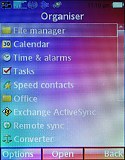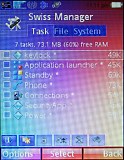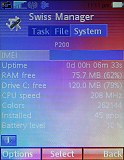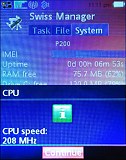 Sony Ericsson P5 - the same 208 MHz processor and 128MB of RAM
Source: Mobile-Review.com Forums, images enhanced by GSMArena team
?
the keyboard on the P1i is superb.... Have you ever used it?
w
It's a pity that we can never see it. I love the Qwerty keyboard on my P1i, It's superb!
?
Sony Ericsson must be crazy to even think about continuing that keyboard
ADVERTISEMENTS