Sharp shooter
The camera used in Sony Ericsson P990 offers autofocus, a LED flash, a dedicated macro mode and image stabilizer for video recording. It's supposed to produce the same quality pictures as those by Sony Ericsson K750 which has one of the best cameras in the 2 megapixel class. Unfortunately, it seems that the testing unit we've got had some issues since the autofocus just didn't seem to work well over distances longer than several meters. Otherwise the macro shots produce nice and crisp images with great focus.


Using the display as a viewfinder
We won't comment on the picture quality since we are rather convinced that the final, retail version of the smartphone would have all that fixed. From what we see from the samples from Mobilmania.cz, P990 offers exactly the same picture quality as the popular 2 megapixel Sony Ericsson models - K750, W800, W810… If we get the phone again when it becomes publicly available, we will make an update to this part of our review. For now we would simply offer you some of the better samples.









Sample photos in full resolution - you can see that the close-ups are great, but the normal pictures are out of focus - an issue with our testing unit

















Photos resampled to 1024 x 768 resolution

Samples from Mobilmania.cz - you can see that the final version of the product has no problems with the image quality
Otherwise the camera interface reminds a lot the interface of the latest Sony Ericsson phones. It has a rather similar graphics and functions but is completely redesigned. The highest resolution available is 1600x1200 pixels with three quality levels - Economy, Normal and Fine. The camera has a full automatic exposure control but offers nice manual overexposure control accessible from the main viewfinder interface.
As we already mentioned, the autofocus has a dedicated macro mode. You can even turn the autofocus off and use a fixed focal length in case you don't like the camera focus lag. The camera offers automatic white balance but there are 4 presets you can choose from depending on the environment. There are several color effects you can apply to the pictures and video such as Black & white, Sepia, Solarization and Negative.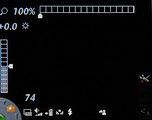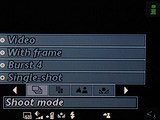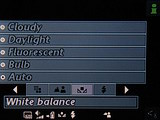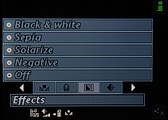 Camera viewfinder interface • shoot modes • white balance settings • color effects
The P990 camera can capture video with a maximal resolution of 320x240 pixels at 15 fps which is not much considering that there are mobile phones on the market capable of recording video in VGA resolution - not to mention the Nokia N93 which captures VGA resolution videos at 30 fps while providing full smartphone capabilities. Lower resolutions allows recording at 30 fps. The output files are recorder either in 3GPP or MPEG-4 format. The video capturing is a serious downside for a smartphone intended to be best-of-class such as Sony Ericsson P990. You can choose whether you would like your videos recorded with sound or not and you can limit their length in order to fit them in an MMS. Otherwise the video recording time is limited by the available memory only.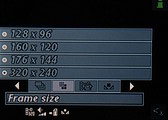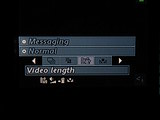 Available resolutions • video length setting



Sony Ericsson P990 video samples
Using the front VGA video calls camera was easy since it offers a rather intuitive interface. A nice thing is that you choose the rear main camera for video calls which practically means that you can show the other call party your surroundings with an ease. The video calls camera also has a dedicated Night mode. Generally speaking, when it comes to video calls, the P990 Video phone application manages well enough.