It was just a month ago when we first saw those pictures of a prototype Sony Ericsson PSP phone. Now more pieces of information lead us to believe that Sony Ericsson France is holding a special event on the 9th of December to announce something about a phone and gaming.
We are sure the PSP fans are eager to know more about the rumored PSP phone. What we know so far is that the device has similarities with Sony Ericsson Vivaz design, but instead of a keyboard it should pack the typical PSP controls and a multi-touch trackpad.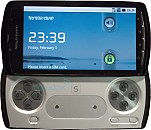 Sony Ericsson PlayStation phone
The latest rumor adds a high-resolution touchscreen screen (Retina-like pixel density) to the 1GHz processor, 512MB RAM and the Android 2.3 Gingerbread OS.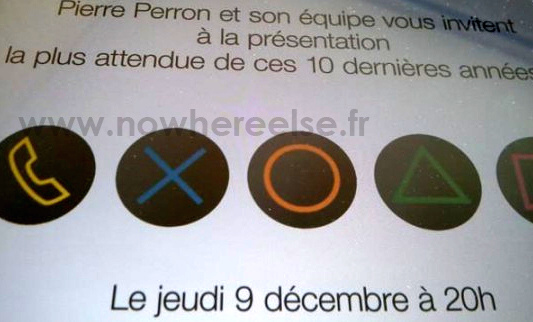 The latest piece of information comes from Sony Ericsson France. The announcement promises the most exciting presentation in the past 10 years. As you can see the icons on the invitation are a phone and the typical PlayStation key logos.
Sounds like the PSP phone is finally coming, doesn't it? We can't do anything more than keep our fingers crossed and wait until 9 December.
i
this handpone so beautiful
D
Rumor has it that it won't support PSP games. Shame
s
1) Hope theres no lag 2) hope it has a big battery life (atleast a day and a half) 3) umd replacements 4) very big ram 5) very big quad processor 6) hope its great ;D
ADVERTISEMENTS