Sony Ericsson published its Q4 and full 2011 financial reports and things aren't looking good for its fans. The joint-venture, which is to become a wholly owned subsidiary of Sony this year, had a rough time in the holiday quarter, which led to a major dip in its overall performance for the year.
Sony Ericsson saw a dip in both sales volume and value in Q4, which resulted in a net loss of €207 million. The company only shipped 9 million phones, compared to 11.2 million in Q4 of 2010 and 9.5 million in Q3 of 2010.
As a result of the poor performance in what's usually the most profitable quarter of the year, Sony Ericsson ended the year with a net loss €247. Only 34.4 million Sony Ericsson handset found their new owner in 2011, compared to 43.1 million in 2010.
According to the report, the reason for the market troubles that the company experiences is the intense competition in the smartphone segment, which led to price erosion. The restructuring charges also took their toll on the final balance.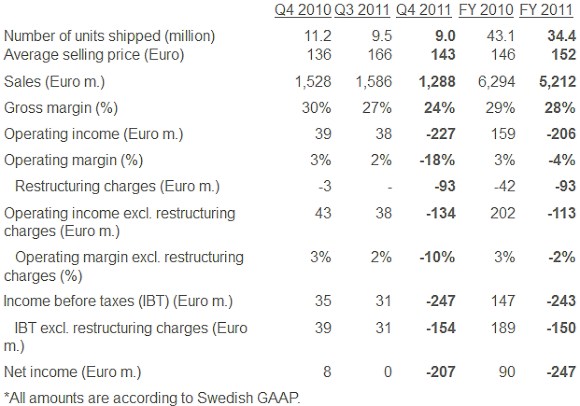 Hopefully, once Sony Ericsson takes full shelter under Sony's wing, it will find its form and return to the profitable ways. The Xperia S and Xperia ion that we saw at CES seemed like a good start and we hope to see more of the same next month at MWC.
If you want to know all the numbers, you can find the detailed report by following the source link below.
T
Sony Ericsson phone should have a simple solid design, wide features, good processor n decent price on each product just like iPhone (they do much better in sales by many probably because these aspects aside from OS). SE dont need plenty variety of p...
x
i think sony ericsson phones are so cool and even sony phones too i cant get over why people say rubbish things about them every type of mobile out is so cool
D
i don't think sony is going the right way....what kind of fools they are?they have the perfect smartphone designs like xperia series but what they are doing with all that stuff.seriously,i am very disappointed with their price tag.for example: xperia...
ADVERTISEMENTS