User interface rather low-end
Sony Ericsson R306 Radio has a scaled-down version of the regular Sony Ericsson interface. It lacks in looks and its functionality is nowhere near the standard offering. It is similar to what we saw in Sony Ericsson T303 that we reviewed recently.
Although there's no Flash Lite theme support, there are several upgrades over the core functionality of the UI, compared to the low-end peer Sony Ericsson T280 we previewed not so long ago. The major improvement is the tree soft key layout, which we love the most. Other than that, there is "My shortcuts" menu, tabbed settings, smart search, TrackID, etc.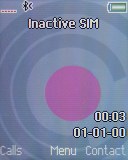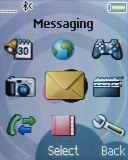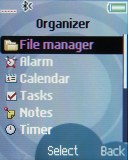 Standby view • the main menu • a listed sub menu
There are four themes preinstalled in the R306 Radio that can help you spice things up a bit.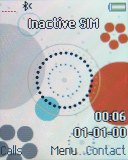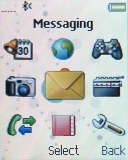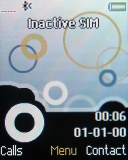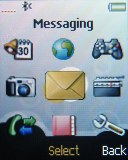 Two of the preinstalled themes
Phonebook is nice
The phonebook stores up to 1000 entries with a total of 2500 phone number fields available. As usual, you can choose whether the SIM contacts or the phone contacts should be default for the phonebook. Displaying both lists simultaneously is impossible. On a different note, a nice option allows you to auto save to SIM any new contacts that you're adding to the phone memory.
Contacts can be ordered by First or Last name. They are searched by gradual typing of the desired name.
Contact details include up to seven different phone numbers plus an email address, web address, custom image, ringtone and message tone, postal address details and, finally, a note and a birthday. So basically, with the Sony Ericsson R306 you get the same phonebook as with its bigger brothers.
Call management
When it comes to making calls, a nice feature is the Smart Search, which lists all available contacts in the phonebook starting with the digits typed on the standby screen. The search facility looks up both letter combinations in names, and phone numbers that start with the digits entered.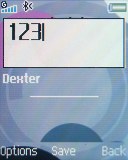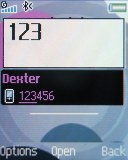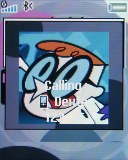 Smart search dialing • Dialing Dexter
The Call log is divided into four different tabs. They are: All, Answered (Received), Dialed and Missed. When there are several calls made to a single contact, only the last one gets displayed.
The Sony Ericsson R306 Radio scored quite high in terms of loudspeaker performance. We shouldn't forget that it has two front-facing stereo speakers to deliver it. A nice surprise, even if it's purely an observation, is that the R306 had more bass than any other handset we've reviewed recently. It's obviously an attempt to get that key radio feature right on all sides.
Here is how the Sony Ericsson R306 Radio stacks up against some of the other handsets we've measured in our speakerphone loudness test.
You can find more info about our loudspeaker test, as well as the results of other tested devices here.
| | | | | |
| --- | --- | --- | --- | --- |
| Speakerphone test | Voice, dB | Pink noise/ Music, dB | Ringing phone, dB | Overall score |
| Apple iPhone 1.1.1 | 67.2 | 60.2 | 66.6 | Below Average |
| Samsung E250 | 71.9 | 64.7 | 69.8 | Average |
| LG KF600 | 66.6 | 66.6 | 78.1 | Good |
| Sony Ericsson R306 Radio | 71.3 | 68.9 | 80.3 | Very Good |
| Nokia 6500 classic | 74.7 | 75.7 | 83.8 | Excellent |
No email in messaging
R306 Radio has basic messaging functionality, with no email client onboard. What you get is text, picture and voice messaging. The Manage Messages function is not available but, luckily, sorting messages by category is at hand.
All messages use one Inbox. No matter what kind of message has been received, it goes to the shared Inbox. When composing a message, the character counter will alert you when you're 10 symbols short of the 160-character limit. The T9 dictionary goes without saying.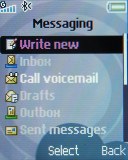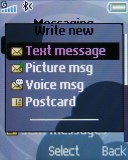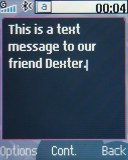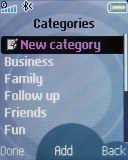 Messaging menu • typing a new text message
Users may opt to sort messages by category list, if a specific category has been defined for a message. Categories are fully customizable as well. You can also delete all messages in a given category. Furthermore, messages in categories can have their own sorting with Contact, Date, and size the available filters to choose from. Much like in Sony Ericsson W890, in the general inbox there is no indication if a message has been assigned a category.
Composing a picture/MMS message uses the same interface as most of the latest Sony Ericsson phones. Opening a new Voice message automatically starts the voice recorder. After the message has been recorded it can be sent immediately or played first.