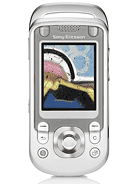 ?
SE seems to have hit the limit in their capabilities. leave out expandable memory from an expensive phone like this? man why kinda sick jokes are these people playing?
r
i am a sony ericsson t630 user. i know fones r gr8. but i really do think SE has probs about giving out memory in der sets. oh and dis is a swing fone lik s710 nd s700. batt seems to be good. but hey im not a big fan of da loop antena..no tv out lik da samsungs mmmm lets see da future.. fm bangladesh... liv it

M
A very good phone on the lines os S700/710 the best part is edge as Sony Ericsson has been quite hesitant in relasing Edge phones as compared to Nokia...also S600 could have gone the W600 way and offered a good inbuilt memory (W600has 256mb), all in all a good phone lest Sony Ericsson thinks of pricing it exhorbitantly (traditionally SE phones are expensive)...One smaal detail that could make this good phone into a great one would be a 2mega pixel camera instead of the 1.3 currently offered...also since Sony Ericsson are claiming this to be their first enhanced gaming phone it should keep an open platform for game development very much like Ngage is offering
e
i dunno wat u all felt but i think SE phones are getting more weird by days... i mean this phone by all means... SUKED!@! it looked funny and ugly, lack of functions and definitely dun have wat it takes to be a new phone... wat is it with all the drawbacks?? downgrading the phones... with lesser memory, lesser resolution... i used to adore SE but now?? erm... reconsidering....
s
can this phone full 360 rotate? because the s700 could only go one way, then back the other way and not 360 degrees...
x
Another "no,no" from Sony Ericsson. No multimedia phone can do without an expansion slot. And the expansion slot should support popular formats (eg. RS-MMC).

If not for the lack of the expansion slot, this would be a goos substitue for the S700i.
n
this phone is tight as hell it looks like the s700 but has a sexier look and i think its better im not sure wether it slides out to the side or to the top but either way its a sexy phone and i thinks its da best phone out by ericcson now

k
the s600 is a brilliant phone, it matches an experts view of the perfect phone. Its features are everything anyone would want in a phone and the simplicity and elegance of the phone is not up to arguements for. The only main drawbacks of the phone is the memory 64mb internal and being the only memory surport of the phone is much to less to meet with the phone capabilities, taking to account that 64mb for music, pictures etc. is much muich to little. As much as i believe this phone would do good in terms of sales it could'nt be match up with the best in the bis. All credits to sony ericsson, respectable phone.
y
SE u hav outdone nokia- this is s700 in different colour and smaler screen
k
s600 is a phone which matches a phone expert's expectations, it's elegant design and simplicity is definetly the right way to pull off all of the buyers out there. It's features are not up for arguements, it has everything anyone would look for in a phone. The only drawbacks of this phone is the memory, 64mb internal and the only memory surport of the phone is much much to less for this type of phone to live up to it's standard and i believe this phone is placed under the sony ericsson k750 and w800 mainly because this fact. Sony Ericsson produced a brilliant phone, but in terms of comparison with the best phones the s600 is not really up them with the rest
k
wow i love this fone, when will it be released in the UK? on which networks will it be available? And how much on 'Pay As You Go'?
A
I think My S700i is more beauiful and elegent , specialy it hasn't this curve hang look antena !!But it looks more dynamic and younger than S700i , the EDGE is a good feature..
A
Great Phone.........When it comes to Sony Ericsson You have bundles of features pack in one box and at a reasonable rates too.Also the picture quality of S600 is
far more better than of nokia's any phone in this range so its worth purchasing it without hesitation.
Total of 75 user reviews and opinions for Sony Ericsson S600.