The Sony Ericsson Satio and the recently released Vivaz both lack a nice modern convenience - a music equalizer. A team of SE developers have come up with a fix today - and it's a rather strange fix.
The equalizer controls have been released as a separate downloadable application from PlayNow.
The new Equalizer for Satio and Vivaz is a separate app - it does not integrate into the music player (you can't access it from the Options menu in the music player), so each time you want to change the equalizer setting you need to switch to the app.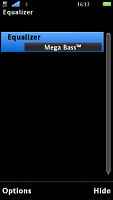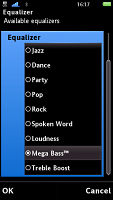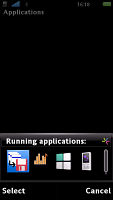 Sony Ericsson Satio and Vivaz finally get an Equalizer
The Equalizer is simple enough, it just lets you pick from the following options Off, Classical, Jazz, Dance, Party, Pop, Rock, Spoken Word, Loudness, Mega Bass and Treble Boost. And that's all there is to it. Unfortunately, there's no option to create a custom equalizer setting.
The setting will persist after you exit the app, or even after you restart the phone and it's a system wide thing - it works for all installed players, etc.
Here's a video of the Equalizer in action. Apparently, the video was shot with a Vivaz:
You can download the Equalizer from PlayNow (it's free) - look for it in the applications section of the music category. It needs the latest firmware to work on the Sony Ericsson Satio, but it will work with the release firmware of the Sony Ericsson Vivaz.
D
Please sand me music euqlizer
D
Please help me some one
A
Thank A lot ...It Works on my Vivaz Pro
ADVERTISEMENTS