Shooter by vocation
Sony Ericsson Satio review: Shooter by vocation

Text input options
The Sony Ericsson Satio offers a complete selection of input methods The handset has a standard alphanumeric on-screen keypad in both portrait and landscape mode.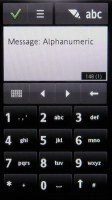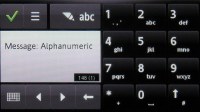 The alphanumeric keypad is available in both portrait and landscape modes
It definitely cannot be a match for any hardware keyboard but the Satio full QWERTY fares pretty well. Typing is enhanced by accurate haptic feedback and the keys are large enough for typos to be reduced to a healthy minimum. Unfortunately there is no predictive typing like on the Apple iPhone or the Nokia E71, but we do not consider this much of a disadvantage.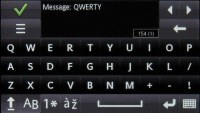 We are really happy with the virtual QWERTY keyboard
Unfortunately, rotating the handset doesn't bring up the landscape QWERTY keyboard as a default input method and instead you have to select it manually from the menu.
There is also a mini version of the QWERTY keyboard which is only good for stylus use, typing with fingers is possible but it's a real test of your patience. Its main advantage is that it takes little space on the screen and can be moved around so it doesn't block your view of things.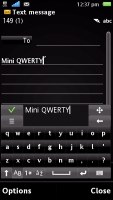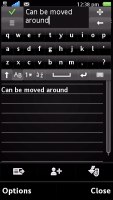 The mini QWERTY has limited use
Finally, the Sony Ericsson Satio offers handwriting recognition and actually does a rather decent job of it, recognizing almost all the letters we scribbled in the box. You can improve its performance by taking the handwriting training - this is where you actually show the handset how you write each different letter.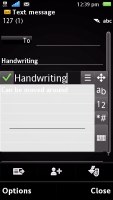 The handwriting recognition worked pretty well for us
File manager is extensive
The Symbian file management system has been top notch for quite a while now, and it's difficult to imagine what needs to change. The application can basically do anything you can think of with your files - moving, copying renaming, sorting or sending - you name it. You can also password-protect your memory card if you see fit.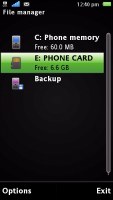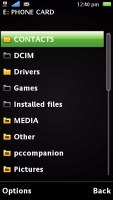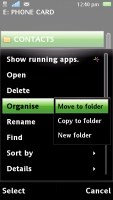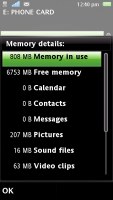 The file manager has extensive functionality
Searching for a specific file or directory is also available on the phone. All you need to remember is a part of the desired name and where it was located (phone memory or memory card) Satio will find it for you in no time. There's also a dedicated Search app, which searches through more than just files - it will sift through your notes, contacts, pretty much anything on the phone.
Media center: Sony Ericsson jumps in where Symbian can't deliver
The Sony Ericsson Satio Media center is a replica of what you usually find on the company's feature phones (and Sony Playstations, mind you) - an attractive and convenient way of accessing the media content on your phone.
Sony Ericsson decided to minimize the Media shortcuts (at least at this stage) and there are only three of the usual suspects to make up the main media center menu - Photo, Music and Video.
As you may already guessed the first one will lead you to the main gallery with various options available, the second give access to all playlist and the Walkman and finally, the third one will show you all video clips stored on the Satio.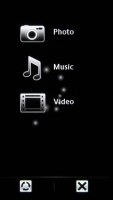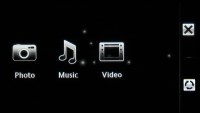 The media center in portrait and landscape mode
Image gallery
The photo gallery is definitely among the best we've seen with great customization capabilities and features aplenty. Some of those options include: one-click access to the latest snapshot you've taken, timeline view for your images and tags.
Tags are a very helpful feature offering better ways to make albums - one photo can belong to more than one tag, which you can't do with folders.
Viewing photos is a joy with the Satio, especially when browsing images fullscreen. When you want to go to the next in line, it doesn't simply pop up but instead slides in from left or right. The selected photo expands smoothly to fill the screen.
You can reveal the full list of available options by tapping on the screen - delete, edit, use as, assign to contact, slideshow, print tag, rotate, information, etc.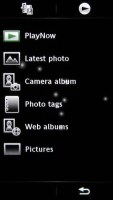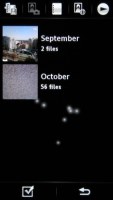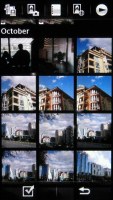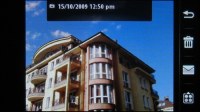 The image gallery • landscape mode
There is also a Pictures section, which stores all the preloaded images that were not taken with the phone's camera.