Shooter by vocation
Sony Ericsson Satio review: Shooter by vocation

Organizer - good old Symbian organizer
The S60 organizer didn't get tweaked that much for the new OS beyond basic touch optimization. Well, developers were right up to a point but - given the progress of most competitors - some new functionality would have been nice like copy/paste of events in the calendar or a new calculator.
We have to admit though that the calculator is much more comfortable to operate with fingers than with a D-pad, almost as if it was designed for such use from the very beginning. Now let's just hope new non-touchscreen devices get something better.
The calendar has four different view modes - monthly, weekly, daily and to-do, which allows you to check up all your To-Do entries regardless of their date. There are the same four types of events available for setting up as on S60 3rd edition - Meeting, Memo, Anniversary and To-do.
Each event has unique fields of its own, and some of them allow an alarm to be activated at a preset time to act as a reminder.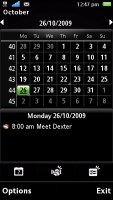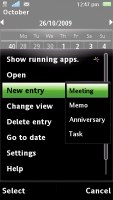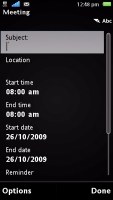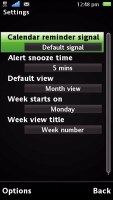 Some of the calendar views and available settings
Mobile office is also highly functional with preinstalled viewers for Word, Excel and PowerPoint files. The PDF viewer was preinstalled on our unit but it's only a 15-day trial version (duh!) and after that you need to buy it.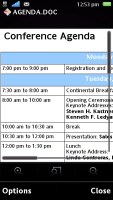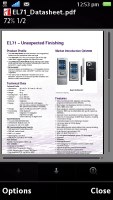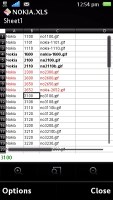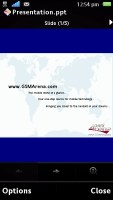 Only viewing of documents is supported out of the box
Unfortunately, editing documents is not supported on the included Quickoffice version. If you would like editing enabled you will have to buy the additional license.
The organizer package also includes a great unit converter, calculator and voice recorder, as well as the Notes application.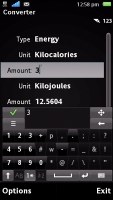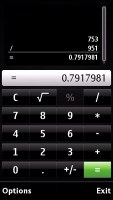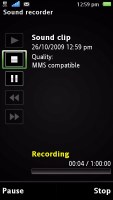 Some of the other organizer apps
The alarm application allows you to set up as many alarms as you want, each with its own name, trigger day and repeat pattern. If this seems too complicated, there is a quick alarm setup where all you do is set the time and you're good to go. This is quite convenient for, say, setting up your wake-up alarm.
In addition, the number of alarms is not limited. Thanks to the built-in accelerometer you can also snooze the alarm by simply flipping your phone.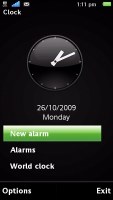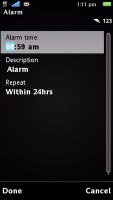 We are quite fond of the alarm application
Applications are half useful, half a gimmick
The preinstalled applications in the Sony Ericsson Satio include RoadSync, MyLook and SMS Preview. There's also a dedicated voice-guided navigation software, which we'll cover in a later section.
The DataViz RoadSync is among the most useful preinstalled applications if you plan on using your Satio in a corporate environment. In essence, it's an ActiveSync client, which provides secure, wireless and direct push synchronization of corporate e-mail, calendar, contacts, tasks and attachments.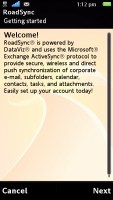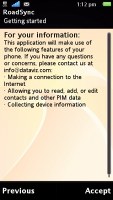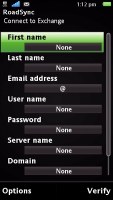 DataViz Roadsync is an ActiveSync client
MyLook is a fun little app, which runs in the background and changes the wallpaper. It works in one of three modes - timer (changes the wallpaper after a set period of time), shake (shake the phone to change the wallpaper), or based on your temporary location (the current cell ID).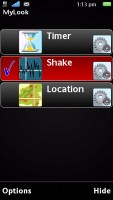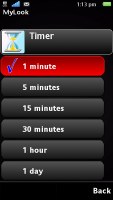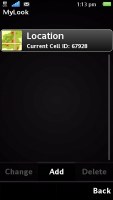 MyLook changes your wallpaper based on where you are
The location-based option is interesting, here's how it works: it uses Cell ID to detect your position and changes the wallpaper based on that. This allows you to have the wallpaper changed automatically based on whether you're at work or at home.
SMS Preview is a handy tool, which previews incoming SMS messages on the homescreen so you won't even have to unlock the phone to read the message. You can set up how long the preview lasts. To start using SMS Preview though, you have to activate the app, which requires sending a single international SMS.