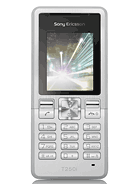 S
Only the bare basics; 2mb internal memory is a joke; makes camera pointless
i
that is a good mobile but little cheap coz of VGA CAMERA camera,and low memory 2b only.
k
It's got the right amount of stuff for it's price. If you want more in a phone then PAY MORE!!
T
-
.only 2 band
.no card slot
.only 2mb mem
.no b.tooth

?
.real stby time
.real price

!
.almost similar with T610/T630 with little different
s
It looks awesome but doesn't really offer anything over the k220 etc. in functionality
Total of 210 user reviews and opinions for Sony Ericsson T250.