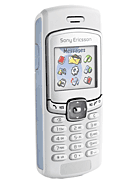 ?
this is for low end users la..... its good enuff for most low end....
thats y its called low end :p
K
What IS THIS????????? We want more colors!!! WE WANT MORE COLORS!!! Grrrr!!

Seriously though, a very boring phone from Sony Erricson.
?
400 kb only!!! seems as SE going down.
yeah i know its a low end phone but this is still extremely low and disappointing :(
?
it has Nokia smart messaging! heheeeee :)
seems as Nokia leading the mobile phone world ;)
Total of 326 user reviews and opinions for Sony Ericsson T290.