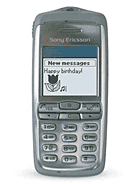 N
Why everyone want to know that price?
i Dont know what price it is in your country.
but in Thailand, a SHIPPING T600 is about 10,000 bath (around 230 US Dollar)
if you want any price of Mobile plz mail me n' ask.
d
can anyone that can ship to AUSTRALIA give me a price on this phone please? (email me)
i
excelent n i like that but i don't have much money to buy it, can u give me free thanx
R
That's is the good model and feature for me and for all.
that the best was i knowed.
H
the dimension not to far different with nokia 8310 or 6510, but its no radio & design not fun. but the price its more cheap than nokia. mote: it is triband cellular
n
can u give me a price of SONY ERICSSION T600. Appreciate send me a mail, regarding the prices of Phones.
N
it does not have color screen? upper buttons are like a car stereo...metalic grip? common features...i don't understand why they make so many models? to take our money ? i have a t28 and i won't change it untill it melts into my hand...and i have money to buy any phone...but i don't use the features like bluetooth..etc...i am a simple user only voice and sms and calculator...adults change bmw-s , kids change phones...

Total of 153 user reviews and opinions for Sony Ericsson T600.