Sony Ericsson T707 is a new addition to the T-series but it's nothing like the T-series as you know them. Not only is it the first flip in the bunch, it also has a different brief than virtually any other T-series handset. Codenamed Elle, Sony Ericsson T707 will be trying to please the ladies but maybe it's not as simple as just sticking that less-a-gadget, more-an-accessory label.
As one of the product designers claims, the Sony Ericsson T707 was inspired by rainbows and the array of paintjobs it will be released in will make sure it won't go unnoticed. The light effects, the stealthy external screen and the ripple-and-circle patterns inside give this otherwise modest mid-ranger a distinct personality and visual appeal.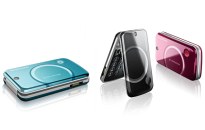 Sony Ericsson T707 official shots
Key features:
Quad-band GSM and 3G with HSDPA support
3.15 megapixel camera with Cell-ID geotagging
2.2" 256K-color TFT display with 240 x 320 pixels resolution
Secondary monochrome external display (36 x 128 pixels)
Scratch-resistant surface for both displays
Bluetooth with A2DP
Hot-swappable M2 card slot (up to 16 GB)
FM radio with RDS
Basic multi-tasking support
Gesture control
Light effects with 5 colors, assignable to contacts
Smart dialing
Threaded messaging
Main disadvantages
Camera doesn't have auto focus or LED flash
Low-res video recording (QVGA@15fps)
External display not legible in sunlight
Keyboard lacks adequate typing feedback (might be changed in final product)
The light effects are too dim (might be changed in final product)
No document viewer
No video-call camera (W508 has one)
No accelerometer sensor (W508 has one)
Sony Ericsson have put quite some effort into advertizing the T707 as an all-around stylish package that's even fit for the tennis star Maria Sharapova as seen from the numerous photo ads.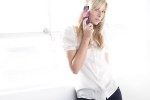 Sony Ericsson T707 in the hands of Maria Sharapova
The front of the Sony Ericsson T707 is where rainbows are made - the exterior is surely an eye catcher. The light effects it offers are a way to add a bit of individuality integrated with practical functionality - the two circular elements on the front panel can be backlit in a choice of five different colors and these colors are in fact assignable to individual contacts.
.
For our review we received the Sony Ericsson T707 in Mysterious Black. Now that we've got our proper introduction, we'd gladly take you down the road with an inspection of looks and ergonomics. See you on the next page…
Pfftt
M
Oh wow the T-Series is pretty weird in this phone, what's next, PewDiePie? Well it is 2018 so yeah don't judge me.
?
Pros: Spring Rose colour for the girls but isn't too bright, in your face pink enough to sicken the boyfriend, perfect girly, 1st phone or additional phone, How it lights up on the outside when you get a txt or call, Being able to che...