Android-inspired feature phone UI
The Sony Ericsson txt pro does not run Android despite outwardly appearances - it's the same full-touch feature phone platform that we saw on the Yendo, but with some improvements.
Here's a video demo of the user interface, which should give you a good impression of the UI:.
There are no widgets on the homescreen but you do get two homescreens, each with a different function. The first shows the time and the date, while the second one holds your five besties from the Friends app. A third homescreen appears when you're running the music player.
You can think of these homescreens as having just one fixed widget that you can't change.
The four corners of the screen hold a shortcut each. By default, they are messaging, browser dialer and contacts. You can switch them with any four shortcuts you like though.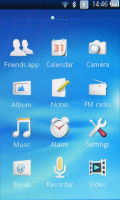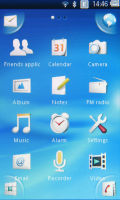 The main menu • Replacing a four-corner shortcut
At the top of the screen there is a thin strip hosting status info about battery, signal strength and others such as Wi-Fi or Bluetooth.
The app launcher can be dragged out from the bottom of the screen and it features a 3x4 grid of icons arranged into horizontal pages. Newly installed apps go on these pages as well and you can rearrange icons.
Being a feature phone, the txt pro has to rely on Java apps to extend the built-in functionality. The Java app repository has grown a few gems though - like the Facebook Java app (though you have to download that manually), Foursquare released a Java app, there are Java versions of some Google apps too (Maps didn't work properly, but Gmail was OK).
For web browsing, the phone comes preinstalled with Opera Mini 5.1, which includes things like an on-screen QWERTY, something that the txt pro doesn't have naturally. You can actually get by on Java apps reasonably well – they are not countless are no hundreds of thousands of apps available, but the big names are present for the most part.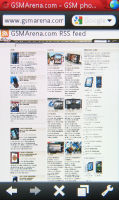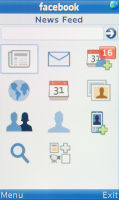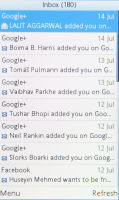 Some of the Java apps we ran on the Sony Ericsson txt pro
Oh, and we noticed something cool borrowed from Android - the Sony Ericsson txt pro actually gave us a list of permissions that an app requires (internet access, etc.) when we tried to install something.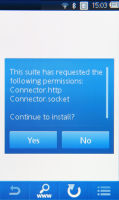 The txt pro gives you a list of required permissions for each app
Sadly, the txt pro lacks multi-tasking. What we miss more, however, is the file browser. There is none on board! Worse still - it turned out that files of a given type must, must be in a specific folder or the txt pro can't see them.
That caused us quite a bit of grief, trying to guess where each file should go. What is this, the early 2000s?
The Sony Ericsson txt pro uses a regular feature phone CPU and unfortunately, you can feel it throughout the user interface – it's sluggish all around. The unit we're testing is a pre-production one, so things might get better, but we're not counting on buttery smooth performance.
Friends app and social networking
The Friends app is one of the highlights of the Sony Ericsson txt pro. It is sort of like those SNS-enabled, tabbed phonebooks that we've seen on custom Android skins. It has five tabs - call log, list of SMS messages, a tab each for Twitter and Facebook updates and finally some options to manage the contact.
It's great in principle, but it only supports up to five contacts and no more, which some might find limiting. Anyway, each contact is represented by their contact photo - the five are always visible at the top of the app and you can tap them to switch to that contact. The second homescreen holds the five contact photos that work as shortcuts - there are no status updates displayed there.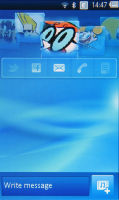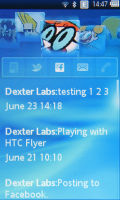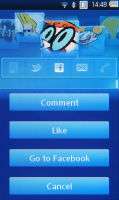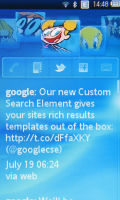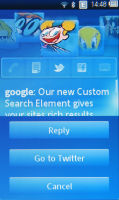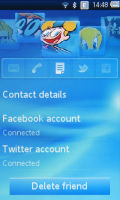 The Friends app supports up to five friends and their Facebook and Twitter accounts
Facebook status updates can be "liked" and you can comment on them, but there's no way to post a status update of your own, the Friends app is purely for following. You can reply to tweets, but again, you can't send a new one from here.
There are conspicuous Go to Facebook and Go to Twitter buttons available - there are even Facebook and Twitter shortcuts in the menu - but unfortunately they all lead to the mobile site of the respective social network, viewed inside the native browser. That overall is an unattractive, barely usable option that we're not happy with.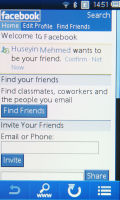 Facebook's mobile site in the native browser is not pretty
Facebook recently released an official Java-based app, which looks very much like the Android app and works great on a touch screen. It supports most of Facebook's features (Chat is missing though), including things that the Friends app can't do (like viewing your friends' galleries). You can even add and manage Facebook apps, which are an easy way to add a lot of functionality to the basic app.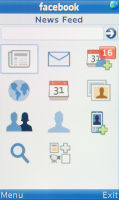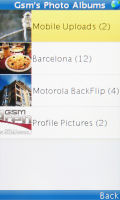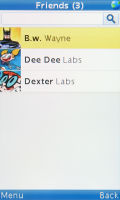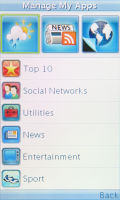 The Facebook Java app is great
If you are into Facebook, the Facebook Java app is a best way to access it on the Sony Ericsson txt pro.
The txt pro also comes with Google Talk and Picasa apps - something you'd expect from an Android, but on a feature phone, they are a nice extra. Talk failed to sign in, but we took Picasa for a spin.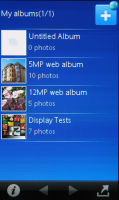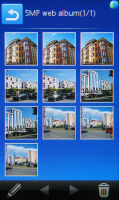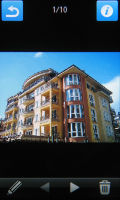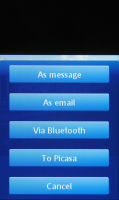 Browsing Picasa's online albums • The gallery can upload to Picasa
You can view albums and photos and edit title and description of photos and their visibility. You can delete photos too and create new albums. You can't upload new photos from here though, you have to do that from the phone's gallery.
Some things are still missing - things like zooming in that we can't imagine won't be in the final version of the software. Some sort of a sharing option would be nice too.