Basic still and video cameras
The Sony Ericsson txt pro has a fixed-focus 3MP camera that can record QVGA videos. It's basic, but it's what you would expect from the class.
The user interface is quite simple - there are three shortcuts in the corners of the viewfinder, the virtual shutter, the still/video camera toggle and the gallery shortcut, which shows thumbnails of the last two photos taken. You can use the hardware shutter key too if you prefer. There are no settings available.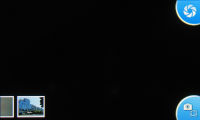 That's all the still camera UI there is
The image quality is acceptable for the class. There's good amount of fine detail left even though noise reduction really likes to smear foliage. There are some things that Sony Ericsson needs to address in the final version of the software (just a reminder, we're testing a pre-release unit), like the blue tint in the photos and the low contrast.
Here are some camera samples:.






Sony Ericsson txt pro camera samples
The video camera uses the same UI and lets you choose video clip length - for MMS or as long as you want. QVGA videos are only good enough for MMS really, so don't expect too much from them.
Here's an untouched video QVGA@15fps (16s, 1MB).
Connectivity and web browser
The Sony Ericsson txt pro comes with quad-band GSM/GPRS/EDGE, which means it will work on just about any GSM network out there. It doesn't, however, offer you fast Internet.
The Wi-Fi b/g is available, so that's not that much of an issue - free Wi-Fi hotspots are all over the place, especially at cafes, restaurants and hotels. Plus, being a feature phone, the txt pro doesn't often need to handle bulky downloads.
As for the browser, the full-touch feature phone browser from Sony Ericsson is available and it handles some other duties as well (e.g. the Facebook, Twitter and Orkut shortcuts in the menu are just bookmarks that open in this browser).
If there's no Wi-Fi hotspot around and you're stuck with EDGE, you'd be better off with the Opera Mini browser. It opens pages faster and it's easier on your data plan, plus it has excellent compatibility with the majority of sites.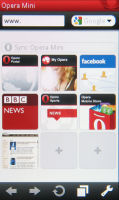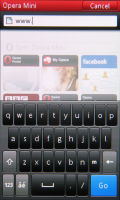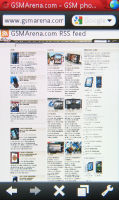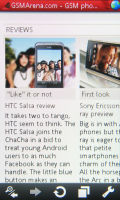 Opera Mini is the better browser on the Sony Ericsson txt pro
There's an on-screen portrait QWERTY (it works in landscape too) that you can use for text input or you can switch it off and use the hardware keyboard for that. We have two minor complaint here - one is that if you enter text with the hardware QWERTY, you're taken to a different screen while you type and the other is that there's no easy way to toggle on the onscreen keyboard on/off.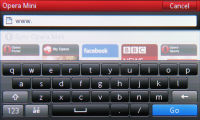 There's a landscape on-screen QWERTY too
First impressions
The Sony Ericsson txt pro is aimed at the young crowd and its features cater to their needs. The hardware QWERTY will be put to good use, kids these days like to text and email a lot.
The Friends app is a great way to keep in touch with some of your friends by keeping an eye on their Facebook and Twitter accounts, but the SNS integration beyond that is nothing to write home about. We hope Sony Ericsson pre-installs the Facebook app when it launches the txt pro.
While it's not a smartphone with a wide range of features, the Sony Ericsson txt pro covers virtually all the bases - camera, music (you'd just need to get a microSD card), social networking and web browsing. Plus, Wi-Fi connectivity means that money meant for a data plan can go towards an even better voice and SMS plan.
There are some areas we've left unexplored, like the music player, for instance – it shows potential. We'll be back for a full review once the Sony Ericsson txt pro gets finalized.