Sony Ericsson broadens its portfolio in all directions with the official announcement of two new Walkman handsets, a new mid-range bar and a couple of Z-series clamshells.
The most exciting of the pack are definitely the new Walkman phones which as usual attract great attention among music lovers. The Sony Ericsson W910 is a HSDPA-enabled slider and comes with the version 3.0 of the Walkman player which means that Sony Ericsson have prepared a number of new treats to the users. The new feature Shake control will allow W910 users to skip tracks backwards and forward with a mere shake of their handset. A double shake back and forth shuffles the current playlist. The Shake control will add new dimensions to mobile gaming too. The Shake control will also be available on the Sony Ericsson W580 slider announced in March 2007.
The Sony Ericsson W910 comes also with the PC synchronization software called Sony Ericsson Media Manager. The first phones to use the new Media Manager will be Sony Ericsson W910, Sony Ericsson W960 and Sony Ericsson K850. Those three handsets are also equipped with a brand new media browser which replaces the well-known Sony Ericsson file manager. The Media Manager software allows for the next interesting feature expected in the Sony Ericsson W910 called SenseMe. The software automatically designates a mood to every track transferred to your handset based on tempo and style. Afterwards you can easily create your current playlist according to the mood you are in. SenseMe has an innovative visual interface representing tracks as dots in a matrix and positioning them according to the mood they've been designated. Up until now the only place we've seen mood filtering is the Sony Ericsson W950 smartphone, but now this feature is taken on a next level.
The Sony Ericsson W910 also comes with an updated version of the TrackID free service which not only gives you name and artist for a captured audio clip but can now also give you additional info on the artist and album. You can now make dedicated searches on an artist's name without even supplying the TrackID with a recorded sound.
Besides all that, the Sony Ericsson W910 boasts a 2 megapixel camera plus a secondary one for video calls and a really large 2.4" 262K color TFT display with a QVGA resolution. The W910 has stereo Bluetooth and FM radio and full UMTS/HSDPA 2100 MHz and quad-band GSM/GPRS/EDGE network support.
The Sony Ericsson W910 will be available in Hearty Red or Noble Black from Q4 2007.
The Sony Ericsson W960 is the next Walkman in line but this time it's powered by the Symbian OS with the UIQ user interface - much like the W950 Walkman phone and all other Sony Ericsson smartphones. When it comes to size the new W960 is only by few millimeters larger than the original W950 while offering a number of hardware enhancements such as an integrated camera, double the internal memory and 3G support with video calls.
The 2.6" touchscreen 262K color TFT display with QVGA resolution plus the regular alphanumeric keypad and a Jog Dial allows for navigation that is flexible enough. The Sony Ericsson W960 boasts a 3.2 megapixel autofocus camera much like the Sony Ericsson P1 smartphone but packs in 8GB of memory to store all your media files. There is no memory card slot but that would hardly make any difference with all that available space. The handset has UMTS 2100MHz and tri-band GSM/GPRS network support - no EDGE support is present. The Chinese version of the handset will have EDGE but no 3G. Other features of the W960 that are worth mentioning include Wi-Fi, stereo Bluetooth, FM radio and USB support.
When it comes to music capabilities the Sony Ericsson W960 has a new Walkman music player which can be operated with fingers easier than ever. The player also supports the SenseMe technology for filtering tracks by their designated mood. In order to enhance the music listening experience Sony Ericsson have decided to include the new stereo Bluetooth headset HBH-DS220 in the retail package.
The Sony Ericsson W960 will be available in Vinyl Black from Q4 2007.
Today Sony Ericsson also presented three other mobile phones - the Sony Ericsson K530, the Sony Ericsson Z320 and the Sony Ericsson Z250 models.
The Sony Ericsson K530 is the successor of the successful K500 and K510 mid-range handsets. It comes in the bar form factor and represents a really affordable 3G solution with tri-band GSM/GPRS support. The Sony Ericsson K530 also has a 2 megapixel camera, A2DP Bluetooth stereo headset support, FM radio, 16 MB internal memory and a Memory Stick Micro (M2) card slot for extending the storage space. The 2" 262K color TFT display has the unusual resolution of 200 x 176 pixels.
The Sony Ericsson K530 is going to be compatible with the new Sony Ericsson GPS Enabler HGE-100, also announced today, which is in fact a GPS receiver integrated into a stereo headset. Once you plug the GPS Enabler, the phone turns into a satellite navigation system which offers dynamic voice instructions. An additional benefit of using such an accessory is the opportunity to monitor your workouts with the "Tracker" GPS application and collect information on speed and distance as well as get visual post-training analysis. According to Sony Ericsson the GPS Enabler should be compatible with all Sony Ericsson mobile phones with Java support from Sony Ericsson K800 onwards.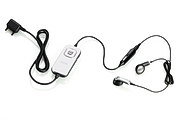 Sony Ericsson GPS Enabler HGE-100
The Sony Ericsson K530 and the Sony Ericsson GPS Enabler HGE-100 will be available from Q3 2007.
The Sony Ericsson Z320 is a stylish clamshell with tri-band GSM/GPRS network support. It comes with a 1.3 megapixel camera, 12 MB internal memory and regrettably, no memory card slot. Other than that, it has a 1.8 inch main 65K color TFT display with 128 x 160 pixels resolution. The external display is capable of displaying only system icons.
The Sony Ericsson Z250 is an entry level tri-band camera clamshell with GPRS support. Its camera is 0.3 megapixel (VGA) and can store pictures on the 10 MB internal memory. There is no memory card slot here, too. The main 65K color CSTN display has a resolution of 128 x 160 pixels.
Both the Sony Ericsson Z320 and Z250 clamshells will be available in Q3 2007.
6
Hay guys nokia oh nokia always producing worlds slowest phones can any of nokia beat sony s new iudo wiyh 12MP camara and dose nokia have face dictation and cyber shot Poooooooooooooooor nokia well done SE thats how it goes
N
yeah the phone is ok and pretty good
?
Nokias phones are usually more powerful than the SE phones. But the SE phones has something Nokia doesn't: Attitude! And lots of it! Every Nokia phone looks and works the same... *yawn*. SE makes phones with attitude and personal appeal. That's...
ADVERTISEMENTS