HD gets a Pro flavor
Sony Ericsson Vivaz pro review: HD gets a Pro flavor

Connectivity is full-suite
The Sony Ericsson Vivaz pro has quite a few connectivity options. Starting with GSM connectivity, there's quad-band GSM/EDGE for 2G networks and two-band (or three-band in the Americas) 3G, which gets a bump in speed from the 10.2Mbps HSDPA and 2Mbps HSPA.
Moving on to local connectivity, there's Bluetooth 2.0 with A2DP and Wi-Fi b/g with DLNA and microUSB and TV out for the wired connectivity.
An 8GB microSD card comes in the box, but you can plug in a 16GB card if you have one. Mass Storage mode is supported, so you don't even need a PC suite installed to browse the files on the card.
The web browser is good at rendering, bad at usability
Sony Ericsson Vivaz pro uses the S60 5th edition browser and starts up with the typical Sony Ericsson homepage.
Browsing has quite a few usability issues though. The kinetic scrolling for one - it doesn't have enough momentum and stops way too abruptly. The tap-to-zoom feature switches between three levels of zoom: 30%, 100% and 200%. Strangely, it was a little hard to trigger, so you are better off using the zoom bar.
You can view a page fullscreen, which gets the controls out of the way, and Overview, which shows fits the page on the screen and lets you pick which zone to zoom back to. While the browser has support for multiple pages opened at the same time, this only works for popups - you can't open a new tab manually and punch in a new web address.
At least the page rendering is quite good, making all the pages look as if browsed on a desktop PC. The high resolution is also welcome here, as it allows more content to fit on the screen.
There is also a login auto-fill interface searching on pages, RSS support along with visual history and bookmarks, which have an automatic subfolder "Recently visited pages".
Finally, the web browser has support for both Flash and Java, which means you can enjoy flash videos straight in your browser without having to use the mobile versions of sites like YouTube. It's Flash Lite so not all Flash content works but a lot of it does.
In terms of speed, the browser performs very well and though there were occasional lags, the videos played smoothly most of the time. It's hard to position the player so that it takes up most of the screen though and the fullscreen option doesn't work.
So, generally speaking, the S60 touch-browser is nicely equipped but fails to address some basic usability shortcomings.
Symbian-grade organizer
The S60 organizer didn't get tweaked that much for the new OS beyond basic touch optimization, but this time you will be glad to have Copy/Paste in the menu options.
The calendar has four different view modes - monthly, weekly, daily and to-do, which allows you to check up all your pending tasks regardless of their date. There are the same four types of events available for setting up as on S60 3rd edition - Meeting, Memo, Anniversary and To-do.
Each event has unique fields of its own, and some of them allow an alarm to be activated at a preset time to act as a reminder.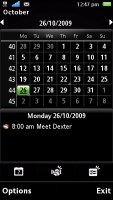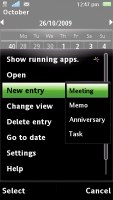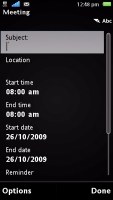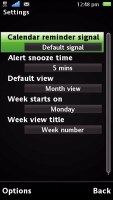 Some of the calendar views and available settings
Quickoffice is also highly functional with preinstalled viewers for Word, Excel and PowerPoint files – Office 2007 docs are supported too (.DOCX and the like). The PDF viewer was preinstalled on our unit and it was a full version, no trials this time around.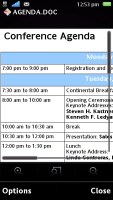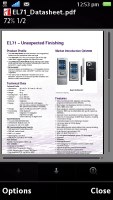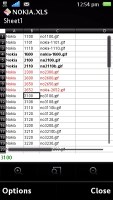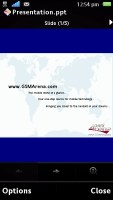 Only viewing of documents is supported out of the box
Unfortunately, editing documents is not supported on the included Quickoffice version – that was OK for the first Vivaz with no keyboard, but with a "Pro" tag, we expected to get better office support. If you would like editing enabled you will have to buy the additional license.
What's even more annoying is that you can't tap and drag in the doc viewer to scroll or pan around – each time you do, the app thinks you want to edit the file and tells you that you need to buy a license over and over again.
The organizer package also includes a great unit converter, a calculator and a voice recorder, as well as the Notes application.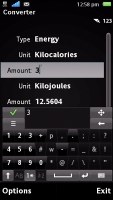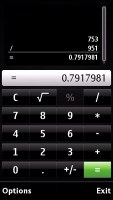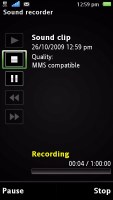 Some of the other organizer apps
The alarm application allows you to set up as many alarms as you want, each with its own name, trigger day and repeat pattern. If this seems too complicated, there is a quick alarm setup where all you do is set the time and you're good to go. This is quite convenient for, say, setting up your wake-up alarm.
In addition, the number of alarms is not limited. Thanks to the built-in accelerometer you can also snooze the alarm by simply flipping your phone over.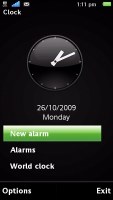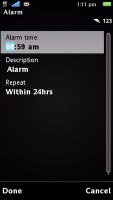 We quite like the alarm application
Applications unusually few
The preinstalled applications on the Sony Ericsson Vivaz pro include RoadSync, SMS Preview and Facebook. There's also dedicated voice-guided navigation software, which we'll cover later on.
The DataViz RoadSync is among the most useful preinstalled applications if you plan to use your Vivaz in a corporate environment. In essence, it's an ActiveSync client, which provides secure, wireless and direct push synchronization of corporate e-mail, calendar, contacts, tasks and attachments. You don't have to be a white-collar to use that. You may just as well sync your phone to the Google cloud service - contacts, email and calendar.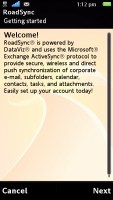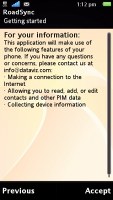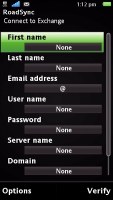 DataViz Roadsync is an ActiveSync client
SMS Preview is a handy tool, which previews incoming SMS messages on the homescreen so you won't even have to unlock the phone to read the message. You can set up how long the preview lasts. To start using SMS Preview though, you have to activate the app, which requires sending a single international SMS.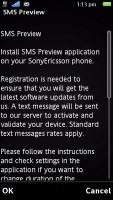 SMS Preview displays incoming texts on the homescreen
The Media server app does the DLNA magic and turns your Sony Ericsson Vivaz pro into a media server. Devices that support DLNA – many TVs and any computer with a supported media player – can view photos, videos and play music off your phone.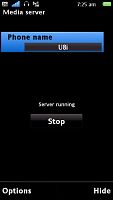 The Media server app adds DLNA to the Vivaz pro
The devices connect over Wi-Fi – Windows Media Player, for example, found the Vivaz pro automatically, so this is a real hassle-free way to show off your photos.
World Mate is a travel advisor for weather, flights, etc. The Web publishing helps with uploading your photos and videos to the likes of Facebook, YouTube, Twitpic, Picasa and so on.
There's also the NeoReader app, which does the job of reading barcodes.
The Facebook app is a full-blown client. It separates things into two tabs – your stuff (wall, galleries, messages, contacts, etc.) and your friends' stuff. Updating your status is easy and so is viewing a contact's photos for example.
The app is a native Symbian app and it's fairly touch optimized. If the contact has added a phone number to their profile, there are buttons that let you quickly call them or send them a text. There's no phonebook integration however.
Our Sony Ericsson Vivaz pro came with no games preinstalled – this could be a regional thing. Play Now wasn't much help this time – there were games, but they cost too much.
Wisepilot to guide your way
The Sony Ericsson Vivaz pro features a built-in GPS receiver. Its sensitivity is nothing spectacular - it managed to get a lock from a cold start in a couple of minutes.
The Vivaz pro is equipped with the Wisepilot navigation software on a 30 day trial. It offers all the features you'd expect in a proper SatNav solution. There's voice-guided walk and drive navigation, maps are courtesy of NAVTEQ, there's 3D view of the maps, extensive route-planning settings, speed camera alerts, POI and weather.
Its main downside is that maps are not stored locally but instead get downloaded over the air. A flat data fee is definitely recommended if you're out and about but 1MB of data should get you about 600km of navigation.
Still, we would have liked to have a map downloader as well. It really would have helped avoid roaming data charges.
We also wish there was a built-in compass, like on most of its competitors, to facilitate navigation.
Google Maps is included as well if you prefer it.