The Sony Ericsson W508 walks and talks midrange though by no means does it keep a low profile. What we have here is the full Walkman package at a bargain price and the rest of the W508 specs may as well be irrelevant if music is the first thing on your list.
A true Walkman at heart, the W508 takes after the Sony Ericsson W980 in many ways and even adds a dash of color to the Walkman experience - in fact, the StyleUp covers make it a regular chameleon.
There are eight StyleUp covers to choose from and the W508 always ships with a spare one in the box. And in case you wonder what's with all those paintjobs, let's not forget the W508 is in a twin predicament and has an identity to assert against the T707. That one we just reviewed, so we're sort of in for a sequel, though in Walkman flavor this time.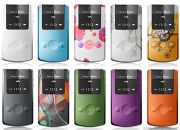 Sony Ericsson W508 official photos
Key features:
Quad-band GSM and 3G with HSDPA support
3.15 megapixel camera
2.2" 256K-color TFT display with 240 x 320 pixel resolution
Secondary monochrome OLED external display
Scratch-resistant surface for both displays
Touch sensitive external music control keys
Hot-swappable M2 card slot (up to 16 GB), 1 GB included
Stereo Bluetooth (A2DP)
Walkman music player with Shake control and SensMe
FM radio with RDS
Gesture control
Accelerometer for screen rotation
Basic multi-tasking support
Smart dialing
Threaded messaging
Exchangeable StyleUp covers
Main disadvantages
Camera doesn't have auto focus or LED flash
Low-grade video recording (QVGA@15fps)
No web browser screen auto rotate
No document viewer
The Sony Ericsson W508 is a friendly phone that has many ways to interact with you - TrackID to find the track you've just overheard at the caf?, SensMe so you can pick songs based on your mood, Shake control to change tracks at the flick of the wrist plus touch-sensitive music buttons and even Gesture control to mute calls with a wave of your hand.
The proprietary audio jack and the single, lonely loudspeaker are points against W508 but support for 16 GB M2 cards and FM radio with RDS are guaranteed to keep you rocking from dusk till dawn.
3G goodies like video calls and HSDPA for high-speed browsing are here, complemented with the nice web browser. The lack of document viewer is a bit of a letdown but not really a feature a Walkman can't do without.
So without further ado, the Sony Ericsson W508 is in for a proper hardware inspection. Join us on the next page, as we go through our checklist.
c
First time using sony ericsson cellphones. Nice and easy to use, customizable d-pad, and good storage on it for the price, however after a few months of owning this phone had noticed phone turning off randomly as others in previous comments have stat...
G
Without doubt this is the worst phone I have owned, - and its the first Sony Ericsson. Despit being in for upgrades, repairs (a 5 day one taking 6 weeks), checks and so on, it frequently says 'Inactive Sim' - even when sitting untouched on a table, i...