A phonebook we already know
The phonebook has space for 1000 contacts and 7000 numbers. You can choose to view contacts in the phone memory or on SIM, but not both. Either way you can set up the phone to autosave to SIM all contacts that are being saved to the phone memory. You can also back up your entire contact list on the memory card and restore it from there.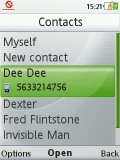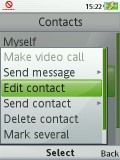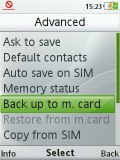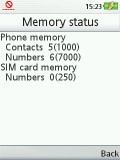 The Sony Ericsson W508 phonebook
The name of the contact is written in only one field, but you still have the option to sort contacts by first or last name. The phone guesses which is which and it does it very well. Naturally, you can search by gradual typing.
Telephony
Before we see how this little fella handles calls we'll take a closer look at one of the intriguing features it packs - gesture control. While you may have seen it before (in the Sony Ericsson W380, for instance), it still remains a unique feature to Sony Ericsson handsets and it deserves due attention.
So here's how gesture control works. Once you get a call or your alarm goes off, the Sony Ericsson W508 activates the front-panel camera and uses it for motion detection - something even cheap webcams can do nowadays. Then you just wave your hand in front of the lens and the call or alarm gets silenced.


Gesture control is a nice little gimmick
The Sony Ericsson W508 offers videocall functionality and unlike the T707, there is now a dedicated front-facing videocall camera.
Handling of regular voice calls is excellent with the W508 and we didn't experience any voice quality or reception problems. Call clarity is great in both the earpiece and speakerphone.
Smart dialing or Smart Search as Sony Ericsson are calling it is a great boost to usability. It looks up contacts whose numbers contain the digits you have typed or whose names begin with the corresponding letters.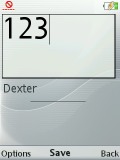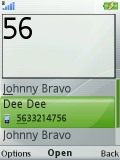 Smart dialing makes life a lot easier
Here is how the Sony Ericsson W508 stacks up against some of the other handsets we've measured in our speakerphone loudness test. More info on our test, and all results so far, are available here.
| | | | | |
| --- | --- | --- | --- | --- |
| Speakerphone test | Voice, dB | Pink noise/ Music, dB | Ringing phone, dB | Overal score |
| Nokia 6600 fold | 66.7 | 62.1 | 64.6 | Below average |
| Sony Ericsson W995 | 65.5 | 66.5 | 73.5 | Average |
| Sony Ericsson W302 | 71.6 | 68.6 | 76.7 | Good |
| Samsung G400 Soul | 69.7 | 73.5 | 84.7 | Very Good |
| Sony Ericsson W508 | 75.5 | 82.7 | 76.0 | Excellent |
Wanna chat?
The Sony Ericsson W508 handles all common types of messages, all of which - save for emails - share a common inbox. The phone also supports push email but can't handle any documents that are attached to emails (such as .xls, .doc, or .pdf files for example) due to the lack of a document reader.
Much like all the recent Sony Ericsson phones, the Sony Ericsson W508 has enhanced message sorting - the so-called Conversations mode, a.k.a. Threaded messaging.
Conversations mode is the alternative conversation-style layout, which displays messages in threads - the SMS communication with a certain contact is organized in speech bubbles much like in an instant messenger program.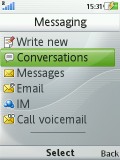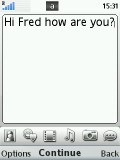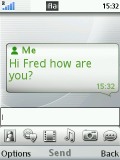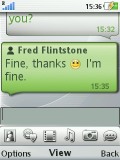 The Conversations section in the messaging department
Along with the standard messaging functionality, the Sony Ericsson W508 also offers the proprietary Manage Messages feature, plenty of settings for accounts, and the option to assign categories to messages. Messages can be moved to memory card or phone memory, arranged by categories, date, size, and contact.