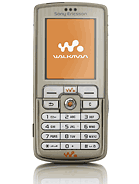 d
What's this?! Why did SE come with such a phone when there's the W800(which btw is an excellent phone)? This phone is identical to it except for smaller memory & different colour.Even the price will not change that much! I honestly don't know what SE had in mind when they made this phone.
c
i'm the first to comment... hmmmm...

hope this phone will be more affordable than w800. and the features of w800 are all there in this phone except the lessen storage capacity of memory stick pro card included.
if the price of the phone will be not that affordable. i will still go for k750, because i don't need walkman so much. i will be contented with the mp3 player of k750. and for other features, they're again same...

hmmmm....
i expect some of the people again to criticize this phone due to etc. etc.s please stop criticizing... brothers and sisters...
Total of 1963 user reviews and opinions for Sony Ericsson W700.