Megapixels are not everything
The Sony Ericsson W760 is equipped with a 3 megapixel camera and is capable of capturing images with a maximum resolution of 2048 x 1536 pixels. Unfortunately, the camera interface is nowhere near what other Walkmans can offer (think W910 or W890). It's more like Sony Ericsson W380 with its 1.3 megapixel snapper.
There is no auto focus, the camera viewfinder works in portrait orientation only, and there isn't even a dedicated camera key - smells like a really low-end solution, except for the fact that W760 is not a low-end device.
Thanks to the built-in accelerometer, the handset orientation is recorded in the camera images EXIF tags. This allows most imaging software to auto-rotate the image to its original orientation once they are transferred to a computer.
The available camera settings are rather scarce too. As for additional shoot modes, you have Panorama and Burst at your disposal. There's also Night mode, Self-timer, White balance and Color effects options. And that's about it.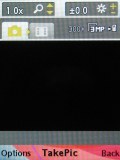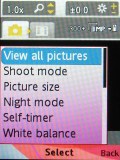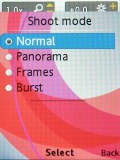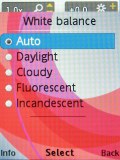 The downgraded camera interface
The integrated GPS receiver is also put to good use with geotagging of photos at your disposal. But the low-sensitivity GPS receiver ruined the experience for us.
Here are several camera samples for you to check out:
As far as video recording is concerned, our test W760 unit went as far as QVGA resolution at 15fps. But judging from our experience, video capturing in beta units is unreliable source of information, so the retail W760 might as well record QVGA video at 30 fps. The video files are encoded in MPEG4 format with AAC audio. There are no special options here either so we'll just leave you with a video sample.
Check out the Sony Ericsson W760 sample QVGA video.
Connectivity and web browsing are excellent
Besides HSDPA, UMTS, EDGE and GPRS for medium to fast data transfers and content-streaming, the W760 offers the usual connectivity capabilities such as USB and Bluetooth with A2DP support.
The Sony Ericsson W760 supports Bluetooth 2.0 with the Human Interface Device (HID) profile, which allows the phone to be used as a remote control for PC and other Bluetooth-enabled devices.
Furthermore, the phone could be used as a Bluetooth modem for accessing the Internet on a PC or notebook computer. For example, we successfully used it as a modem for a notebook-based Skype conversation with video.
Bluetooth support also includes the A2DP profile, allowing listening to music on a stereo Bluetooth headset.
Sony Ericsson uses the latest Access NetFront HTML browser 3.4. It's pretty much the same the Web-pitched Sony Ericsson K660 uses. Elaborate web pages are rendered brilliantly and displayed fullscreen by default. Panning/scrolling speed is quite up to standard. Screen auto-rotation is seamless too thanks to the built-in accelerometer.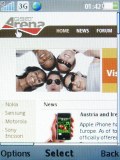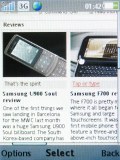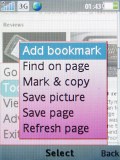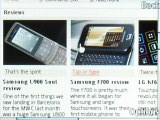 Browsing GSMArena.com • some of the browser options • browsing in landscape mode
The web browser offers a virtual mouse pointer, which is a real pleasure to work with. Another interesting and practical feature is the "Find on page" option. It searches the loaded web page and the first match is immediately listed as soon as you type a letter.
Knowing your way with Location services
Before proceeding with the description of the usual applications and organizing functions, where no novelties are noticed, we would like to pay due attention to the Location services set of applications.
With Location services you can get help finding your way, view information about your current location and save your favorite locations. To use all features of the Location services wireless internet access is required. With the integrated GPS receiver, Location services gets full GPS functionality, as well as A-GPS for faster satellite lock. This makes it possible to use navigation on the go, with turn-by-turn guidance.
| | |
| --- | --- |
| "...The Location menu also offers access to the Wayfinder Navigator software - a 3-month trial version. It offers GPS mapping in 150 countries and turn-by-turn navigation in 50 countries in over 20 languages..." | ADVERTISEMENTS |
Available for free download and compatible with a variety of mobile platforms, the Google Maps for Mobile application comes preinstalled in the W760. Two different views are available - Satellite and map view. Traffic information is another important feature here. The user interface is nice and intuitive.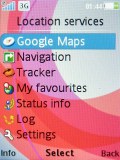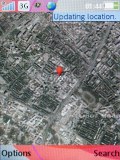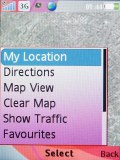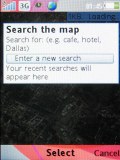 Location services with Google Maps • Google Maps user interface and some of the menu options
With the GPS receiver, the Status info application displays the current activity in km/h for a 60 minutes period. The GPS connection status is indicated on the second tab of this application. Thanks to the Log information you always have a log of the places you've visited with the GPS on. The GPS information is saved each minute and each stored position can be visualized on Google Maps.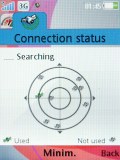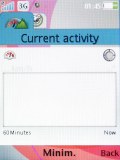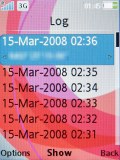 The Status info application and the GPS log
The Location menu also offers access to the Wayfinder Navigator software - a 3-month trial version. It offers GPS mapping in 150 countries and turn-by-turn navigation in 50 countries in over 20 languages. Unfortunately, it was inactive in our pre-release test unit.
And finally, the Location services menu offers a Sports application called Tracker. It creates a sports profile based on your gender, age, height and weight, and it then keeps track of your sports endeavors. It can store your pace, distance, time and calories. You can also define sports activities based on GPS tracked routes, or based on time or distance.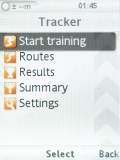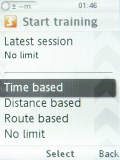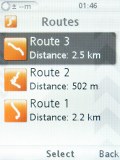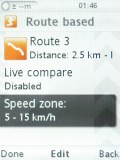 The GPS-based Tracker application
Well, it must be said it's commendable to offer GPS navigation and tracking to the feature phone market and we truly admire the Sony Ericsson effort. Geotagging your photos or using the GPS signal for sports tracking are fun applications of the built-in GPS receiver. Not to mention the GPS navigation and points-of-interest search offered by Google Maps and the Wayfinder Navigator.
We did however have problems with the GPS sensitivity in streets surrounded by tall buildings. We surely hope that those issues will be fixed in the retail version.