User interface – Eclair is a step up
The W8 comes with Android Eclair 2.1 preinstalled, which is quite a letdown. Even in this price range it's hard to forgive the use of an outdated platform version like that. Froyo was announced more than a year ago and even Gingerbread has been around for more than 6 months. Just how Sony Ericsson though they will get away with that one is beyond us.
We've prepared a demo video of the W8 in action.
The Sony Ericsson W8 uses the same homescreen as its sibling the Xperia X8. This means that the screen has HVGA resolution, which is about as good as you can expect in this class, and measures 3 inches in diagonal.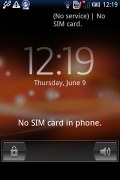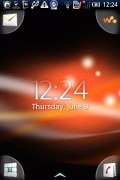 The lock screen • Main homescreen
The handy four-corner shortcuts from the X10 mini make an appearance here as well. By default, they take you to the message composer, music player, phonebook and dial pad/call log. You can switch them with any four shortcuts you like though.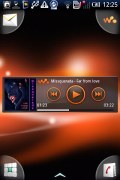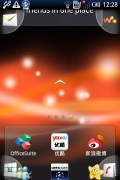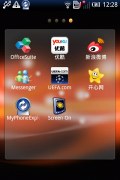 The screen holds only one widget • Bringing up the menu
Android's notification area is as usual at the top of the screen. It's a thin strip hosting status info about battery, signal strength and others such as Bluetooth or missed events. Sliding it down however reveals the whole story - you get a list of all recent notifications.
The W8 packs the Timescape UI plug-in but lacks the Mediascape one. In fact, Timescape is available as a separate application and its job is to bring all your communications together.
It always displays an aggregated view of your SMS, MMS, email, missed calls, Facebook and Twitter updates all on one screen. It also has a large number of tabs to filter the content by type.
You're still limited to one widget per screen. And no shortcuts or folders either. And those widgets leave a lot of unused space – Sony Ericsson could have easily fit two widgets per screen. At least, you get as many homescreen panes as you want (as many widgets as you have, that is) and they are easy to rearrange.
To bring up the task switcher on the W8 you press and hold the Home key just like on any other Android phone. It gives you access to the six most recently used apps. Due to the logic of the operating system, some of them might be hibernating rather than actually running in the background.
Synthetic benchmarks
Here's how the W8 did on synthetic benchmarks. It utilizes a 600 MHz ARM 11 processor and Adreno 200 graphics chip. Basically it's not the sharpest tool in the shed but for most intents and purposes it does decently with the hardware it has.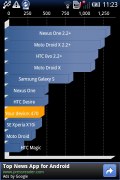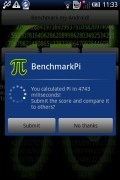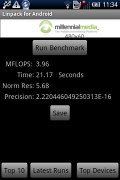 Quadrant • BenchmarkPi • Linpack
Benchmarks-wise the W8 isn't here to impress and most definitely isn't a contender for droid-fights but in real life it feels solid.
Despite this the UI feels fluid and there were not many hiccups while we were operating the phone. The only time it slowed down was when it was preparing the SD card after removal, which for most people will not be more than once a day. App performance is a whole other question of course, but even there the W8 is not too bad.
Phonebook
The W8 phonebook can store quite a lot of information. It lets you input numbers for work and home, but this time there are no custom labels. There is of course an email field and you can assign a custom ringtone.
You can add an IM nickname to the contact as well as a postal address, company and job title, several notes, you name it. You can redirect calls directly to voicemail.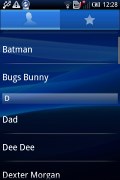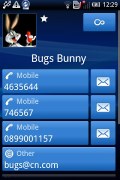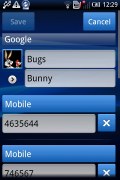 The phonebook is comfortable enough to navigate
When viewing a contact, the various details are displayed in sections. Tapping on a given number dials the contact while opting for the envelope icon next to it launches the message editor. Those two buttons fill an entire horizontal row so that they are more thumbable.
Telephony
The Sony Ericsson W8 had no issues with reception and the in-call sound was loud and clear.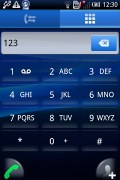 Telephony is good but lacks Smart dial
Unfortunately the W8 doesn't feature the smart dialing feature that we appreciate so much.
In the W8 the call log is a part of the dialer application. You can easily search the entries in it by flick scrolling.
Thanks to the proximity sensor the Sony Ericsson W8 automatically switches off its touchscreen when you hold it next to your ear for a call. There is no chance of ever hitting an on-screen button with your cheek on this one.
We also ran our traditional loudspeaker test on the Sony Ericsson W8. It received a "below average" score but is loud enough in most scenarios. More info on the test, as well as other results can be found here.
| | | | | |
| --- | --- | --- | --- | --- |
| Speakerphone test | Voice, dB | Pink noise/ Music, dB | Ringing phone, dB | Overal score |
| Sony Ericsson W8 | 66.5 | 62.2 | 69.7 | Below average |
| Sony Ericsson Xperia X8 | 66.6 | 66.6 | 69.1 | Average |
| Samsung Galaxy Gio S5660 | 70.7 | 65.7 | 70.6 | Average |
| Samsung Galaxy Ace S5830 | 71.0 | 66.7 | 66.5 | Average |
| Samsung Galaxy Mini S5570 | 68.0 | 65.9 | 70.6 | Average |
| Nokia C5-03 | 73.7 | 65.7 | 75.7 | Good |
| HTC Wildfire | 74.3 | 66.6 | 75.7 | Good |
| HTC Gratia | 71.9 | 72.6 | 82.7 | Very Good |
| Nokia C6-01 | 75.0 | 66.3 | 77.8 | Very good |
| LG Optimus One P500 | 77.1 | 74.5 | 77.9 | Excellent |
Messaging
The SMS and MMS messaging section is quite straightforward and simple. There's the new message button on top and a list of all your messages organized into threads beneath.
When you add multimedia content to the message, it is automatically turned into an MMS.
The screen of the Sony Ericsson XPERIA X8 is not big enough to accommodate a regular QWERTY keyboard comfortably in portrait mode, but in the landscape mode it's nice to use. The virtual keyboard won't please heavy texters perhaps but it's good enough for the occasional use.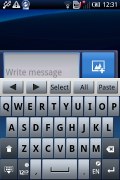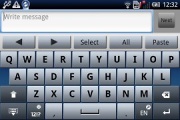 The on-screen keyboard is good but tiny
Moving onto email, the Gmail app supports batch operations, which allow multiple emails to be archived, labeled or deleted. There is also a generic email app for all your other email accounts and it can handle multiple POP or IMAP inboxes. The standard email app doesn't do threaded email – this is enabled in Gmail only.
The default Instant Messaging app that comes with Android is Google Talk – and it's very good. The G-Talk network is compatible with a variety of popular clients like Pidgin, Kopete, iChat and Ovi Contacts.