No catch, plain thin
Sony Ericsson W880 review: No catch, plain thin

The well known file manager
If you have used other Sony Ericsson handsets you won't be surprised by the W880 file manager because there are no significant improvements here. On the other hand if you are still new to SE phones, well let me tell you that they have one of the best non-OS file managers. It allows you to mark files (single or multiple), copy them, move them, and also create and delete folders as you please. There are three tabs of file lists - one for the phone memory files, one for the memory stick files and one mutual for all files. By selecting a given tab you can filter the file list you wish to see.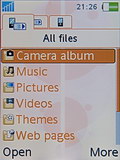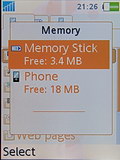 The mutual tab • available memory space
Browsing your pictures is as easy as ever - you could do that in a list view with or without thumbnails while the file names are visible. You can also choose to view your pictures as a grid matrix of thumbnails in 2 x 2 or 3 x 3 grids with no file names visible. The video files can also be browsed as thumbnails.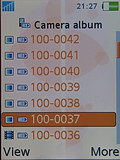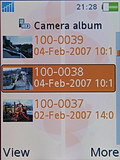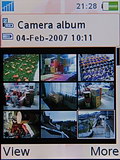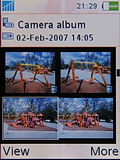 List view • thumbnails list view • 3 x 3 grid view* 2 x 2 grid view
You can view the pictures themselves vertically (in portrait mode) just as you would on any other phone or horizontally (in landscape mode) if you prefer. When viewing the pictures one by one the phone preloads a lower quality preview in order to allow you fast browsing. Once you find a picture, you would like to see in its full glory you should stop browsing for a second and the phone would load it with its normal quality.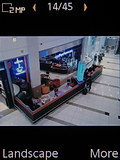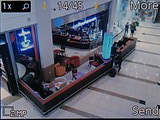 Viewing the pictures in landscape mode is much more natural
You can zoom in to the actual size of the picture or even more, up to 32x. Zooming is performed by small incrementing steps. That allows greater control but is kind of irritating since you have to go through several stages before you zoom in enough to check the details.
The interesting thing about the file browser is the Timeline view, which allows you to filter the pictures according to the month they have been taken in. After you specify the month, you could even choose the exact date. That sort of image filtering is offered by computer picture browsers and digital cameras. The Timeline sorting is seen more and more often lately in the recent Sony Ericsson phones.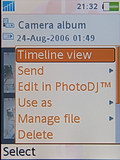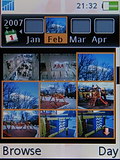 Viewing options • applying a monthly filter
While browsing pictures you can easily do a little bit of editing on them or send them as MMS and email or via Bluetooth. You can even upload the selected image to an online blog.
If you want to edit some of the pictures you have taken, the PhotoDJ application is at your disposal. With its help you can easily adjust levels, light balance, brightness and contrast, remove unwanted red-eye effect, apply some color effects to the picture such as negative and sepia, or you can add a frame or a text to the picture.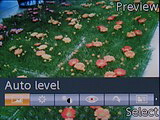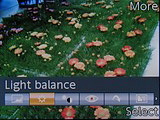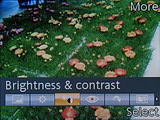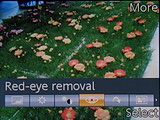 PhotoDJ image editing application
A regular Sony Ericsson cam
The 2 megapixel camera of W880 does its job satisfactory without any bells and whistles. The quality of the pictures taken is rather the same as the quality of the pictures taken by Sony Ericsson W850.
We've seen better quality cameras from Sony Ericsson, not to mention the lack of autofocus. The camera offers night mode, self-timer, panorama, frames, and burst shooting modes. It also features white balance correction. Several color effects are available, too. The menu interface has gone through some minor graphics updates and now the menu looks a bit 3D.
The shooting is performed in landscape mode by using the camera shortcut button as a shutter key. Of course, you can take a picture in portrait mode too, but the camera menu is meant to be used in landscape mode. Once you've taken a picture with the phone you can immediately blog it on the Internet and thus share it with your friends. The camera options are in a menu that we have seen on all recent phones by Sony Ericsson so if you've had one, you would feel perfectly at home here.
We are very pleased with the performance of the camera - taking pictures doesn't take long even at the highest resolution and quality settings. The shot-to-shot times are great which is usual for the recent Sony Ericsson mobiles. Sony Ericsson W880 has no dedicated macro mode, everything closer than say 80 cm from the lens will be out of focus.

















Sample pictures taken with Sony Ericsson W880
The videos taken with W880 are captured at a low QCIF resolution. You can choose to limit the video duration in order to fit it on a MMS message or you can make unlimited recordings. The options for the video camera are pretty much the same as those for the still camera with very minor differences.
Sony Ericsson W880 sample video
We should also mention the video calls camera on the front of W880 since after all we are reviewing a 3G phone here that is capable of making video calls. We are pleasantly surprised by the functionality that this tiny VGA camera offers. The other party's video feed is viewed in a large frame in the middle of the screen while you see your own image in the very same time in a small frame in the lower left corner. There is also a possibility to view your own image mirror-like, meaning that the image gets reversed and looks as if you are staring at yourself in a mirror. It's much more natural that way.
You can also digitally zoom your image at a 2x degree or choose to replace your live video feed with a picture of your taste or with a live feed from the main camera. You can also do that during an actual video call. The options don't end here. You can further on control the exposure compensation of the camera or even switch it into a night mode. There are 3 different video quality modes: Smooth, Sharp and Normal. Smooth delivers a smoother picture flow while Sharp provides more detailed images.