Audio quality
The audio quality of Sony Ericsson W902 is a mixed bag. The distinct music focus of the handset and Sony's great experience in the area had us hoping for much better results.
What came as a surprise to us is the frequency response of the Sony Ericsson W902. It has extremely boosted bass and treble and reduced mid frequency sounds. The graph looks as if an equalizer has been applied only that it wasn't. We can hardly imagine how far off the frequency response will be if you actually apply one.
We have noticed such behavior on some other Sony Ericsson handsets - but only at their maximum volume. The frequency response of the W902 however seemed to deteriorate even further when we reduced the volume.
On the positive side all of the other reading are pretty good with the distortion levels simply great. The stereo crosstalk is also one of the best we have come upon recently. You can see for yourselves from the following results that save for the frequency response the Sony Ericsson W902 is quite a gifted musician.
| | | | | | | |
| --- | --- | --- | --- | --- | --- | --- |
| Test | Frequency response | Noise level | Dynamic range | THD | IMD + Noise | Stereo crosstalk |
| Sony Ericsson W902 | +7.31, -2.18 | -81.7 | 84.1 | 0.0039 | 0.020 | -85.4 |
| Sony Ericsson K850 | +0.21, -1.04 | -85.7 | 88.8 | 0.014 | 0.030 | -84.8 |
| Sony Ericsson W910 | +0.25, -1.25 | -81.5 | 82.7 | 0.0071 | 0.028 | -81.9 |
| Sony Ericsson W980 | +0.31, -1.25 | -86.0 | 89.4 | 0.037 | 0.828 | -86.3 |
| Apple iPod Touch 2G | +0.04, -0.05 | -91.4 | 91.5 | 0.0027 | 0.012 | -90.0 |
| Samsung M7500 Emporio Armani | +0.86, -6.28 | -80.1 | 80.1 | 0.017 | 0.134 | -73.9 |
| Nokia N81 | +0.39, -1.13 | -86.6 | 85.8 | 0.041 | 0.040 | -69.9 |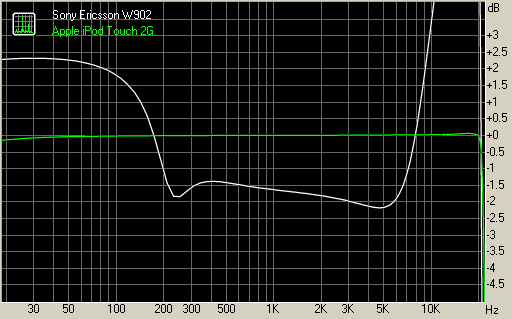 Sony Ericsson W902 vs Apple iPod Touch 2nd generation frequency response graphs
FM radio
The FM radio on the Sony Ericsson W902 supports RDS and TrackID. You can store up to 20 stations and use the auto save feature to scan and save stations automatically.
The radio can be minimized to play in the background and controlled via the Walkman keys but, unlike the music player, it doesn't have any visualization on the home screen, not even the RDS info. The previous/next buttons can be used for tuning in - one short click for going 0.1 MHz up or down, and a longer press for switching between saved stations.
Video player
The video player on the Sony Ericsson W902 supports fast-forward and rewind, and slow-mo playback. It can play in landscape and has three options for video size - original, auto fit and full screen (which crops the video if needed).
A nice feature of the video player is the screenshot capability. It allows you to save a frame of video and add it to the gallery.
Camera: Walkman meets Cyber-shot
The Sony Ericsson W902 packs a 5-megapixel autofocus camera capable of taking shots of maximum resolution of 2592 x 1944 pixels (the average file size is a tad below 1.3 MB).
The W902 is the first Walkman that won't let imaging play second fiddle and its 5 megapixel camera is here to prove it. On the other hand, video recording is a bit disappointing with QVGA resolution at 30 fps.
Right above the camera lens is placed the Photoflash (a.k.a. PowerLED) - it's no match for a xenon flash but has its uses in close quarters. For one, it works in BestPic mode and can serve as video light. It's also used as an autofocus assist beam.
But let's roll back and start with the basics. The straightforward guess is the Sony Ericsson W902 uses the same camera as its Cyber-shot sibling C902. The only difference is the absent Face Detection feature, which we won't pretend we miss.
You still get all the other niceties like image and video stabilizer, BestPic, auto-rotate, macro mode, camera images geo-tagging (based on cell-ID), etc. The user interface also has Cyber-shot written all across. Settings are displayed in the viewfinder on a toolbar with pop-up submenus. Traditionally, the viewfinder toolbar lets you control shoot mode, scenes, picture size, LED flash, self-timer, white balance, effects, and settings (Multi menu).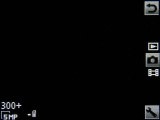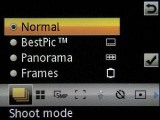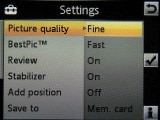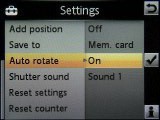 The camera interface is the one we know from the Cyber-shot cameraphones
The image stabilizer is supposed to keep images from blurring in dark environments but, as in all phone cameras so far, it's purely a software tweak of questionable efficiency. Plus no stabilization can help you if your subjects are moving.
The ultra quick-snapping BestPic mode has two varieties - fast and slow. In fast mode it produces 9 full-size 5 megapixel images for about 1.3sec, each of them of approximately 1MB of size. Saving all the images on the memory card afterwards takes about 15 seconds. The slow mode takes 9 images again but in a larger interval of about 2.5sec.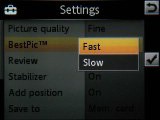 BestPic mode in the settings menu
Sony Ericsson W902 doesn't have GPS on-board but is capable of putting standard GPS coordinates in images based on cell tower triangulation. This seems to work quite fine with relatively accurate estimation in dense city areas, where cell towers are closely positioned, but your mileage in other scenarios may vary.
When browsing tagged images in the gallery, you have access to a "View on map" tab from the options menu, which displays your location directly on the preinstalled Google Maps. If you pair the phone with an external GPS receiver, the geotagging feature automatically starts to use it to collect exact GPS coordinates for the images.
The dedicated macro mode in W902 allows you to take images from as close as 10 cm (focus lock is reported in the viewfinder even at 8 cm but the image is actually a bit blurred). The silent shooting mode completes the features list of the W902 camera.
Thanks to the built-in accelerometer the camera is also able to auto-rotate your images when you are previewing them.
The Sony Ericsson W902 camera is identical to that of the Cyber-shot branded C902. Picture quality accordingly experiences the same highs and lows. The W902 may not have a true rival among Walkmans but the image processing algorithm has a few issues that need sorting out.
The images are crisp with nice contrast but traces of oversharpening are to be seen all over. Both color and luminance noise levels are way too high and are probably also the result of aggressive sharpening. The lens used also seems to be imperfect resulting in easily visible and quite irritating purple fringing.
On the positive side, macro photos turn out pretty good with more than sufficient detail. Color rendering is better than most other Sony Ericsson handsets but still not perfect. The colors turn out a bit colder than they actually are.









Sony Ericsson W902 camera samples
Of course, the W902 is also capable of capturing video, even if it's only limited to QVGA resolution at 30fps. The clips are recorded in mp4 format and take about 3 MB for every minute of recording. Interestingly enough, the W902 camera is officially quoted to record stereo sound to video clips.
Here is a sample video for you to check out.