The Sony Ericsson W910 Walkman phone is the best handset for 2007, and we have the GSM Association's word on that. The high-end music handset won a tight group of nominees in the Best Mobile Handset or Device category.
Busy as we've been giving you the future stars, the 13th Annual Global Mobile Awards of the GSM Association proved a more than welcome chance to slow down and look back at the time-tested achievers, which back in 2007 used to have the spotlight all to themselves.
Well, last night in Barcelona it was less about the star debuts, as the GSM association announced the winners in fifteen categories. Quite as expected, we were keen to see who walks with the gold in the Best Mobile Handset or Device. It was a tight game with 3 Skypephone, LG KU990 Viewty, Nokia 6500 classic and Samsung G600 putting pressure on the Walkman W910.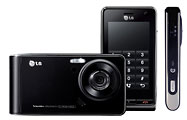 Nokia 6500 classic • LG KU990 Viewty • Samsung G600
The judges believed Sony Ericsson W910 deserved the Best Mobile Handset or Device title for being "… a superb all-rounder. A compelling, easy to use design that has captured the imagination of consumers around the world in 2007." For what we made of it back in the day, please feel free to revisit our extended Sony Ericsson W910 review.
The Best Mobile Handset or Device category was the only one with a consolation prize. Hutchison 3 and Skype were given a good pat on the shoulder as their 3 Skypephone got highly commended. The judges appreciated that "… in addition to the headline Skype service, the phone offers extremely good value for money with a wide range of features not previously seen at this price point."
R
this phone is BY FAR the worst phone in the whole entire history of phone making. i would rather use a cup on string I HATE THIS CRAP. how on EARTH did it "snatch best handset award"??????
ADVERTISEMENTS