8 gigs of character
Sony Ericsson W980 Walkman review: 8 gigs of character

Generously sized phonebook
The phonebook of Sony Ericsson W980 has a capacity of 1000 entries with a total of 7000 phone number fields. You can opt for either the SIM contacts or the phone contacts to be default for the phonebook. Displaying both lists simultaneously is impossible but a nice option allows you to auto save to SIM any new contacts that you're saving in the phone memory.
With Sony Ericsson W980 you can choose whether to order your contacts by first or by last name. Naturally, you can search by gradual typing of the desired name.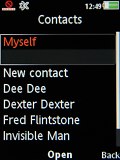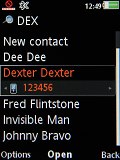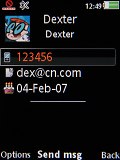 The Sony Ericsson W980 phonebook
When adding a new contact, the available details are stored in five different tabs. The first tab offers 7 phone number fields, while the second tab is for email and web addresses. The third is for assigning a picture, custom ringtone, custom message tone (now that's a new one) and a voice command. The fourth goes for postal details. The last, fifth tab, is for making an additional note and adding a birth date.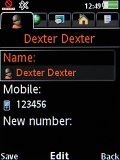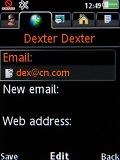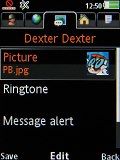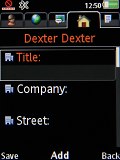 When editing a contact the information goes into five different tabs
A nice feature of Sony Ericsson W980 allows you to add each birthday you enter to the calendar and set a reminder with a single click.
Telephony is excellent
Sony Ericsson W980 offers spotless handling of calls. Voice quality is great on both end of a call with no interferences whatsoever.
When it comes to dialing numbers Sony Ericsson W980 really scores a point with its Smart Search dialing feature. It looks up contacts whose numbers contain the digits you have typed or whose names begin with the corresponding letters.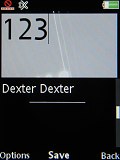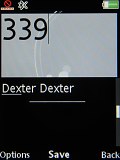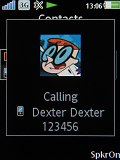 Smart search dialing scores a point when it comes to dialing numbers
The Calls log application brings no news. It is divided into four different tabs, including All, Answered (Received), Dialed and Missed. When there are several calls made to or from a single contact, only the last one gets displayed.
Here is how the Sony Ericsson W980 stacks up against some of the other handsets we've measured in our speakerphone loudness test. The integrated stereo speakers did quite well, earning the handset a very good mark.
| | | | | |
| --- | --- | --- | --- | --- |
| Speakerphone test | Voice, dB | Pink noise/ Music, dB | Ringing phone, dB | Overall score |
| Sony Ericsson W980 | 70.2 | 75.7 | 75.7 | Very Good |
| Apple iPhone 1.1.1 | 67.2 | 60.2 | 66.6 | Below Average |
| Nokia 5310 XpressMusic | 64.8 | 62.0 | 75.9 | Average |
| O2 Cocoon | 65.1 | 65.7 | 78.0 | Good |
| Nokia 6500 classic | 74.7 | 75.7 | 83.8 | Excellent |
You can find more info about our loudspeaker test, as well as the results of the other tested devices here.
Messaging worth a praise
The messaging menu of Sony Ericsson W980 is really advanced offering a lot of features and nice user-friendly interface.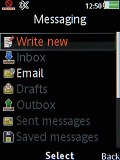 Sony Ericsson W980 messaging menu
On top of the usual messaging functionality, Sony Ericsson W980 offers the now-becoming-standard Manage Messages and Manage Email features, Message Categories and plenty of settings.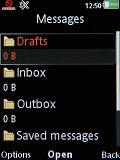 The Manage Messages application is a handy too for sorting your messages
The Manage Messages application allows messages to be moved between the memory card and the phone memory, arranged by categories, date, size, and contact as well as other options for improved message handling.
With Sony Ericsson W980 all messages, except emails, share a common inbox. No matter of the type of the message it goes to the shared folder.
When composing a message, the character counter will alert you when you're 20 symbols short of the 160-character limit. After that it will count down the remaining symbols before eventually the "SMS 2" warning appears to indicate that you have exceeded the limit. Predictive text input goes without saying in a high-end phone like this one.
We are also pleased with the email client of Sony Ericsson W980. It supports dozens of settings and all types of encodings, some of which we are only used to seeing in more advanced messaging devices.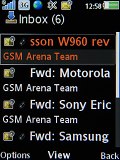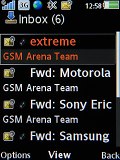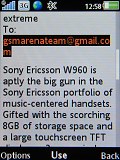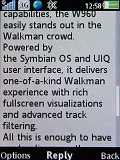 Reading our email with the W980
Sony Ericsson W980 can save attachments, no matter if they are supported or unknown file formats. Emails can also be sorted by size, date and time.
Viewing a message fullscreen and changing the font size (small, medium, large) are handy options. There is a separate Manage email application, with the same structure and features as the one for SMS.
A tad disappointing is that Sony Ericsson W980 cannot view any office documents such as Word, Excel and PDF files. All recent Sony Ericsson phones don't have that functionality and we think it's about time that they did something about it. The presence of a document viewer really earns a point here for some competing brands such as Samsung and LG.
Still, on the whole, we are happy with the messaging software of Sony Ericsson W980. Combined with a typing-friendly keypad it can really become a heavy texter's best friend.