8 gigs of character
Sony Ericsson W980 Walkman review: 8 gigs of character

FM transmitter
Finally we come to one of the most exotic and intriguing features of Sony Ericsson W980 - the FM transmitter allowing you to broadcast your favorite tracks. Those can then be picked up by any device with an FM radio receiver in the vicinity. The signal strength of the W980 is really good, even outperforming some dedicated FM transmitting devices we have seen.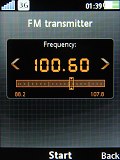 FM transmitter interface is rather simple
The quality of the sound transmitted isn't exactly Hi-Fi but it does the job. A pleasant surprise was that it transfers the artist and the track name over RDS. The FM transmitter can be put to good use in quite a number of situations - in a car or at a party, just to name a couple.
Audio quality
We are very pleasued with the overall audio quality of Sony Ericsson W980. It definetely has some potential and apart from the rather high intermodulation distortion and total harmonic distortion showed very good results. Its frequency response is almost identical to that of Apple's dedicated music player - the omnipresent iPod.
You should however bear in mind that the flaws in the audio quality might be due to the fact that our unit was a beta version. Those might as well be fixed in the retail version making Sony Ericsson W980 on the better side of handsets on the market in terms of audio quality. Here are the results so you can see for yourselves how it performs at this stage. If you would like to learn more about the test itself you can follow the link.
| | | | | | | |
| --- | --- | --- | --- | --- | --- | --- |
| Test | Frequency response | Noise level | Dynamic range | THD | IMD + Noise | Stereo crosstalk |
| Sony Ericsson W980 | +0.31, -1.25 | -86.0 | 89.4 | 0.037 | 0.828 | -86.3 |
| Apple iPod | +0.41, -1.16 | -91.6 | 91.8 | 0.0043 | 0.015 | -83.6 |
| O2 Cocoon | +0.27, -1.30 | -80.1 | 79.8 | 0.0089 | 0.035 | -79.6 |
| Samsung i550 | +0.74, -0.76 | -90.8 | 86.9 | 0.0024 | 0.033 | -89.1 |
| Sony Ericsson K850 | +0.21, -1.04 | -85.7 | 88.8 | 0.014 | 0.030 | -84.8 |
| Nokia N81 | +0.39, -1.13 | -86.6 | 85.8 | 0.041 | 0.040 | -69.9 |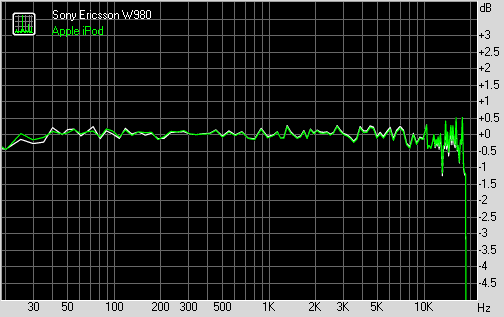 Sony Ericsson W980 vs Apple iPod frequency response graphs
Camera: we deserve better
The Sony Ericsson W980 is equipped with a 3 megapixel camera and is capable of capturing images at a maximum resolution of 2048 x 1536 pixels. It has neither auto focus nor flash and that speaks enough. Add the awkward location of the camera lens (exactly where your index finger will rest when holding the phone) and the lack of a dedicated camera key and you get (or probably won't get) the picture.
The camera interface also smells low-end, with basic graphics and limited number of features. It is nowhere near what some other Walkmans like the W910 or W890 have to offer. Real pity, as we are more than sure a decent camera interface wouldn't have been that much of an effort.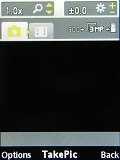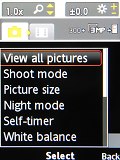 Camera interface is way too basic for a high-end phone
At least the built-in accelerometer of Sony Ericsson W980 is put to good use, with the handset orientation getting recorded in the camera images EXIF tags. This allows most imaging software to auto-rotate the image to its intended orientation.
The available camera settings are rather scarce too. As for additional shoot modes, you have Panorama and Burst at your disposal. There's also Night mode, Self-timer, White balance and Color effects options. And that's about it.
As far as picture quality is concerned Sony Ericsson W980 leaves us with mixed feelings. It renders colors very precisely and the photos can hardly be accused for lacking contrast. On the other hand the very aggressive noise-reduction technique that is being used eradicates all the fine detail from the pictures.
It seems that a smaller-size sensor has been used for the Sony Ericsson W980, which is producing very noisy images. In order to hide the noise the very strong noise-reduction algorithm step in action, considerably reducing the detail levels. This is a solution typically used for lower-end devices and we are rather disappointed that the Walkman flagship didn't receive better treatment.
Sony Ericsson W980 sample photos:
As far as video recording is concerned, our test Sony Ericsson W980 unit went as far as QVGA at 15fps. We know better though than rushing to a conclusion about video capabilities of beta units. There have been several cases when handsets that could only reach QVGA@15fps in their prerelease stages went as far as QVGA@30fps in the retail version.
Video files are encoded in MPEG4 format with AAC audio. There are no special options here either, so we'll just leave you with a quick video sample.