Convergence is the buzzword and the Cyber-shot Walkman affair-turned-marriage is busy producing offspring. And hey, the young Sony Ericsson W995 sure makes the first-born W902 look like a helpless orphan.
Easily the best equipped feature phone of the house, Sony Ericsson W995, still more popular as Hikaru, packs in all there is to find at the top of the company portfolio. The full set of connectivity options, the biggest screen on a Sony Ericsson feature phone to date, GPS, Wi-Fi and the great user interface make a sweet enough package on their own.
But in the case of W995 they're just the perfect background for the unprecedented blend of music and imaging. The Cyber-shot line is graciously lending its 8 megapixel triumph, while the music dowry includes the latest Walkman 4.0 player, with all the bare Walkman necessities such as Shake control and SensMe. And there's more to make it even sweeter. We called it a marriage and Sony Ericsson have taken due care of the wedding presents. We don't know what else to call the kickstand and the on-board 3.5 mm audio jack.
So Sony Ericsson W995 has it all, doesn't it? Now let's see if it gives it all.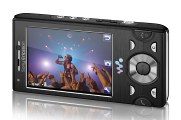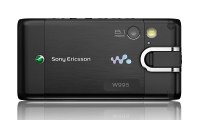 Sony Ericsson W995 official photos
Key Features:
Brushed metal body parts
Quad-band GSM, dual-band HSDPA
2.6" 256K-color TFT display of QVGA resolution
8.1 megapixel camera with autofocus, LED flash, geo-tagging, face detection
WQVGA video recording at 30fps
Built-in GPS with A-GPS functionality
Wi-Fi with DLNA support
Bluetooth (with A2DP) and USB v2.0
Accelerometer sensor
118MB of internal memory and M2 memory expansion (8GB card included)
Stereo speakers
3.5 mm audio jack
Kickstand
Walkman 4.0 music player with Shake control and SensMe
FM radio with RDS
Multi-tasking support
Smart dialing
Comfortable keypad, nice sliding mechanism
Main disadvantages:
Video recording limited to WQVGA
No lens protection
No DivX/XviD video support (though it's touted as a video-centric phone)
Kickstand construction could've been more reliable
No office document viewer
Since the phone is expected to hit the market by Q2 2009 (which is just around the corner) and Sony Ericsson didn't mention any price, we can only guess how much it will sell for. It's fair to expect a price tag around the same as the similarly equipped Nokia N86 8MP, which will start shipping at the same time at an estimated 375 euro (before taxes and subsidies).
As we said, the Nokia N86 8MP offers almost the same features. Almost. The camera is 8.1-megapixel and sports autofocus, but it also comes with Carl Zeiss optics, dual-LED flash (W995 has a single-LED) and the exciting wide-angle lens and variable aperture.
The N86's screen is also 2.6" but it's based on AMOLED technology (not TFT) and shines with 16M colors (not just 256K). Both devices have kickstands but the one on the N86 seems more reliable based on what we saw at the MWC.
And last but not least, let's not forget that the N86 8MP is a Symbian smartphone with all the possibilities for expansion this entails. It's in the best interests of the W995 that we don't extend this comparison any further!
Another competitor of the SE W995 is the smart Samsung i8510 INNOV8, which packs all the Sony Ericsson W995 does, but adds some extra features on top which are well worth checking out. Follow the link to our in-depth review of the INNOV8.
It seems that the Sony Ericsson W995 has some pretty strong competition so the decision about which to choose ain't gonna be easy.
Meet us on the next page, where we'll go through its looks, handling and ergonomics.
A
Ok so I just upgraded to this phone. From Samsung a53s. Obviously the downside is that there is no 5G connectivity. But there seems to be barely any connectivity at all as it's failing any https connections. Can this be resolved with ...
C
I want sonyErecsan w995 8mp cemera phone