Are Android-powered 5-inch phone tablets on the rise? Seems so, especially after the Dell Streak just launched in the UK. Sony Ericsson is also (rumored to be) getting into that game with a 5-inch Android tablet with QWERTY, which also has phone functionality.
The form factor of the Sony Ericsson tablet is similar to the HTC Advantage. The screen slides out and tilts to the point where the thing looks more like a mini-netbook. The device has a 5-inch screen (with yet unknown resolution) - not that much smaller than the 7-inch screen of the original EEE PC.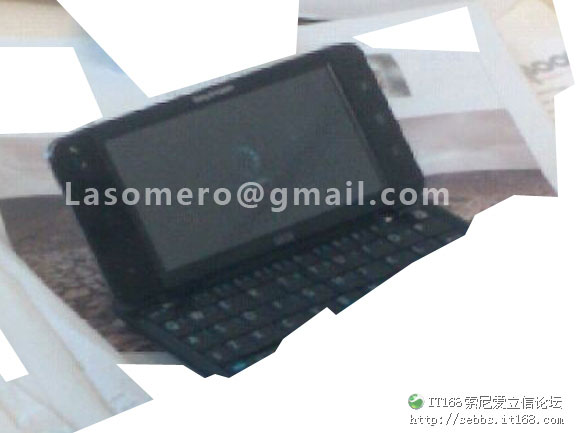 But wait - this is a phone too. It runs Android 2.1 with reportedly no plans for a recent 2.2 Froyo update. The device is just a prototype, but Sony Ericsson still have the Android-running XPERIAs to update, so this sounds quite believable. Speaking of XPERIA, this new tablet/phone is supposedly about the same size as the Sony Ericsson XPERIA X10 (which has a 4.0-inch screen).
From the badly anonymized photo, it looks like the Sony Ericsson phone tablet will have a keyboard with at least four rows, maybe even five.
The iPad proved there's a market for 10-inch tablets, but is there room for the "not quite a phone, not really a tablet" mid-way devices like this one and the Dell Streak?
Source (Site in Chinese)
M
#1, why didn't you try the HTC x7500? I was once upon a time a Psion user, I've found the 7500 to be the best successor to that old -perfect- mini-pc. I'm still using the 7500 because of its unparalleled usability, while it's aging, right now, with t...
?
Wow, if it is as good as it appears, this is the perfect replacement for my ageing collection of Psion 5mx and Ericsson MC218s. About time someone managed to come close to matching these old timers. And after I'd just bought a PsiXpda too... but I'm ...
S
I agree that the andriod system is a mess! It's like we are rats and google keep experimenting on us. Please people don't get me wrong, andriod is an amazing os indeed but it still lacks many important features that symbian and wm already had from ag...
ADVERTISEMENTS