How about that, Sony Ericsson is secretively working on a Froyo update for their XPERIA X10. Unfortunately, this update won't come before Q2 2011. But you know what - it's actually sad cause at that time Google will probably be outing Android 3.0.
Reportedly, this new bit of info comes from a Sony Ericsson Turkish support representative. Their statement was the following (message in Turkish):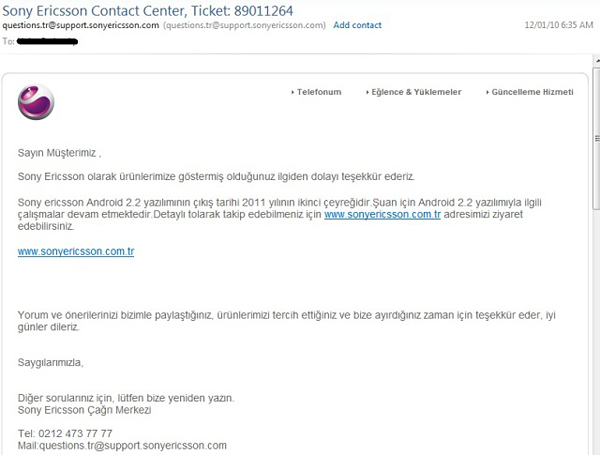 In other words, "Sony Ericsson is planning to release the Android 2.2 update in the second quarter of 2011".
It's hard to tell which company's software update policy one is worse: Sony Ericsson's or Motorola's. Anyway, it's still good to know that Sony Ericsson hasn't given up on its Sony Ericsson XPERIA X10.
r
will it be?? i think no more rooms for thinking the upgrade for x10 instead of launching the arc, play, n more other SE tablets... so make a proven not promise...
r
I hope sony doesnt desert the x10 just yet 2.2 would be Fantastic on the x10. But, for what its worth, SE tech support here in Australia, told me about 2 weeks ago another update for the x10 "has not been taken off the table. " We shall see...
Q
will it support Arabic language?
ADVERTISEMENTS