The ultra compact smartphone niche has obviously brought enough cash to Sony Ericsson as it is just about to release a successor to their X10 mini pro. The new device is yet unnamed (though X12 mini pro seems like a reasonable guess), but seems to fix all there was to fix about its predecessor.
With a slightly larger 3" screen of higher resolution and far more computing power, the new tiny QWERTY-equipped device seems to be to the rumored X12, exactly what the X10 mini pro was to the X10. The keyboard is not actually visible on the leaked shots, but the Chinese source assures us that it's there.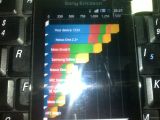 Sony Ericsson XPERIA X10 mini pro successor
The CPU ticking inside is said to be a 1GHz Snapdragon, confirmed by those impressive benchmark results. Even though it achieved over 1500 at Quadrant (significantly better than the Nexus One) you will notice that the CPU scores of the two are equal (the blue parts of the result bars).
The XPERIA X10 mini pro was announced at the Sony Ericsson press conference at the MWC 2010 so we will probably see the newly leaked device properly announced on 13th February just before the start of MWC 2011.
Source (in Chinese)
D
What's the use of the word "mini" in the Xperia Mini Pro if you enlarge it's screen, if it's screen will be big, it's not mini at all, and Xperia mini and mini pro are the world's smallest hd recording phones,
d
3.7" not good enough? http://www.gsmarena.com/sony_ericsson_xperia_pro-3779.php
p
Hello Sony Ericsson Developers, We need a 4" inch screen version with a physical keyboard!
ADVERTISEMENTS