The Rainmaker
Sony Ericsson Xperia active review: The Rainmaker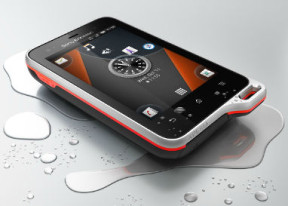 Connectivity
The Sony Ericsson Xperia active has quad-band (850/900/1800/1900) GSM network support. There's dual-band 900/2100 and tri-band 850/1900/2100 3G too, depending on region. You can count on up to 7.2 Mbps of download speed. Wi-Fi covers the b/g/n standards and there is Wi-Fi hotspot functionality.
Bluetooth 2.1 with A2DP and standard microUSB are also on the list. Like all recent Xperia smartphones, the Xperia active supports USB on the go via a LiveDock, which is sold separately.
Web browser does Flash
Thanks to Android 2.3 Gingerbread and the Adobe Flash 10.3 support, the Xperia active's web browser does a great job.
The user interface is pretty light at first sight. Once the page loads, all you see is the URL bar and the bookmark button on a line at the top of the screen. Once you zoom in or pan around though even that line disappears (scroll to the top or press menu to bring it back).
The browser supports text reflow, but it works only with double tap – a moment after setting the zoom level just double tap on the display and the columns of text will align to fit the screen width. Without text reflow you will either have to zoom out until the text fits (but then it's too small to read comfortably) or scroll sideways to read each line.
The 3.2" HVGA screen may sound too small, but it is more than enough and you have all the screen estate for actual content. The Xperia mini's browser supports double tap and pinch zooming, along with the dedicated virtual zoom buttons.
The minimalist UI is quite powerful – hit the menu key and six keys pop up. You can open a new tab, switch tabs, refresh the page, go forward, and open bookmarks. The final button reveals even more options (text copying, find on page, etc.).
The bookmark list shows a thumbnail of the bookmarked page and you also get a "most visited" list in addition to the history.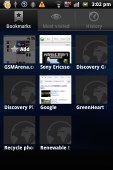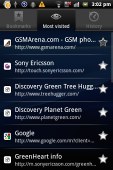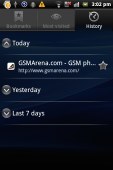 Bookmarks • Most visited • History
The web browser has full Flash support with the Adobe Flash 10.3 player (available for free at the Market). YouTube videos at 360p played quite smoothly but you'll have no problems with 720p too, once the video has loaded. Playing Kongregate Flash games is no problem on the Sony Ericsson Xperia active too.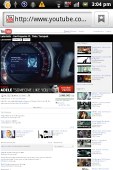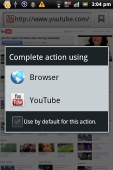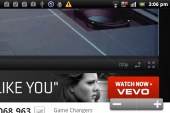 Watching a video in the browser is a piece of cake
The high-quality videos on YouTube and other Flash video services had some dropped frames, but the overall Flash performance turned out pretty decent. The YouTube app is still there though, just in case.
GPS and Google Maps
The Xperia active has a GPS receiver and A-GPS support. It managed to lock onto satellite signal in less than 2 minutes with A-GPS turned off. With A-GPS on, which involves some network data, satellite lock took less than a minute.
Google Maps is in charge of the digital maps department on the phone. In many countries it even comes with free turn-by-turn navigation.
There's also Street View, allowing 360-degree view of any area you might be interested in (providing the regular GMaps has Street View coverage there, of course). In Street view you can pinch zoom in and you can enable the compass for automatic panning.
Turn-by-turn voice guidance using Google Maps Navigation is available in select countries and unless you live in one of them the best you can do is plan a route in advance and keep an eye on your current location during travel.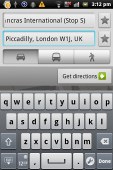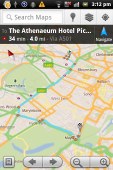 Voice navigation is region-dependent
You get the Xperia active with Maps 5 out of the box, which gives you access to some great features. Offline rerouting is one – if you stray off course, Maps will recalculate the route without the an Internet connection. You can't change the destination without a connection though. There are also 3D buildings (where available), two finger rotation, tilting and so on.
Depending on your region you may get the Xperia active with Wisepilot navigation pre-installed, but you'll have to pay for it.
The Xperia active is for the sports-minded
Sony Ericsson declared a healthy proactive approach toward its smartphone devices back in February by adding ANT+ support. ANT+ is a wireless signal technology, which has been integrated into numerous fitness and health-monitoring devices, allowing them to transmit their data wirelessly to any ANT+ enabled display or logging device.
Imagine that you were out there on the track and your smartphone was ANT+ capable, measuring and recording all your vital statistics and performance indicators.
And it's not for running only. All fitness, sport and health-tracking products such as heart rate monitors, blood pressure monitors, spin bikes, foot pats, weight scales, and so on, can send your health data and statistics to an ANT+ enabled mobile device.
The technology relies on a 2.4 Ghz wireless network protocol and could be simultaneously connected to multiple devices. Connection and pairing between devices is a matter of push of a button or just holding the devices near one another for a couple of seconds. Now that's seamless.
There isn't an ANT+-enabled accessory in the retail box of the Xperia active so you will have to buy one (if you don't already own one).
Sony Ericsson have also preinstalled the WalkMate and iMapMyFITNESS+ apps on the Xperia active. WalkMate is a very simple application, which relies on the built-in accelerometer sensor to count how many footsteps you take in a day. iMapMyFITNESS+ tracks your training via GPS and then sends the distance, route and other information to your free account on mapmyfitness.com where you can check it out later. It's a free app and available for other OSes too.
Organizer and apps
The Sony Ericsson Xperia active comes with a solid set of organizer apps.
There's a Notes application as well as Reminders. Document viewing is enabled, courtesy of the OfficeSuite. Word, Excel, PowerPoint and PDF are supported, including the Office 2007 versions. Editing will cost you around $10 at the Android market.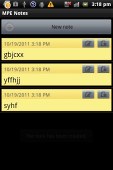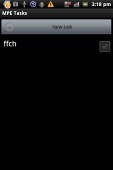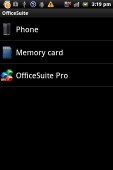 Notes • Reminders • OfficeSuite Lite
The usual suspects are there too: an Alarm clock, calculator, calendar - all basically unchanged from previous Sony Ericsson droids.
The Alarm app has desk clock and night mode enabled. It dims the display so that it won't bother you.
TrackID is a music recognition service that was pioneered by Sony Ericsson on their Walkman feature phones. Open the app, record some of the music you're listening to and hope that the Gracenote servers will find the song in question.
The Facebook app for Android is preinstalled and has all the functionality you need: photo uploads, comments, news feeds, groups and events.
Chances are, though, you won't use it all that much given the deep Facebook integration on the phone. Your Facebook contacts are in the phonebook while Albums are in the gallery.