Android de Triumph
Sony Ericsson XPERIA Arc review: Android de Triumph

Connectivity
The Sony Ericsson XPERIA Arc has the full set of connectivity options: quad-band GSM/GPRS/EDGE and tri-band HSPA with download rates of up to 7.2 Mbps and upload at 5.76 Mbps.
It offers Wi-Fi (b/g/n), USB v2.0 and Bluetooth 2.1.
The inbuilt storage is 320MB only, but you can expand it up to 32GB via the microSD card slot. The phone will ship with an 8GB memory card.
Unlike the Nexus S though, there is no NFC support.
A standard 3.5mm audio jack and the mini-HDMI port complete the connectivity tally. Unfortunately you'll have to buy your own HDMI cable, it's not included in the retail box.
A great web browser
With added Flash 10.1 support and the latest and fastest UI version, 2.3.2 Gingerbread, the Arc's web browser does a great job.
The user interface is pretty much nonexistent at first sight. Once the page loads, all you see is the URL bar and the bookmark button on a line at the top of the screen. Once you zoom in and pan around though even that line disappears (scroll to the top or press menu to bring it back).
That way you have the entire 4.2" screen for web browsing. The Arc's browser supports double tap and pinch zooming, along with the dedicated virtual zoom buttons.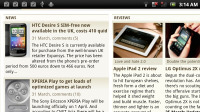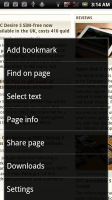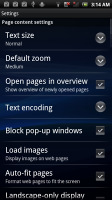 Browser in landscape mode • Settings
The browser supports text reflow, but it works only with double tap zooming – a moment after setting the zoom level, columns of text align to fit the screen width. Without text reflow you will either have to zoom out until the text fits (but then it's too small to read comfortably) or scroll sideways to read each line.
The minimalist UI is quite powerful – hit the menu key and six keys pop up. You can open a new tab, switch tabs, refresh the page, go forward, and open bookmarks. The final button reveals even more options (text copying, find on page, etc.).
The bookmark list shows a thumbnail of the bookmarked page and you also get a "most visited" list in addition to the history.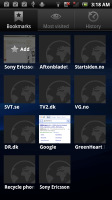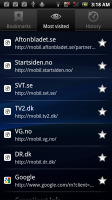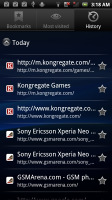 The bookmarks section • History • Most visited
One of the big updates of the XPERIA Arc's (or any other Gingerbread phone) web browser is the full Flash support with the Adobe Flash 10.2 player. YouTube videos played quite smoothly (360p-480p), and so did the games from Kongregate, for example.
The Sony Ericsson Arc supports the latest Adobe Flash 10.2 but you have to download it separately for free from the Android Market.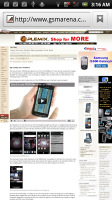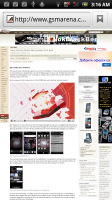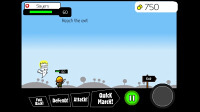 Playing a You Tube video within the browser • Playing a flash game in the browser
The high-quality videos on YouTube and other Flash video services had some dropped frames, but the overall Flash performance turned out pretty decent. The YouTube app is still there though, just in case.