S as in Sophomore
Sony Ericsson Xperia arc S review: S as in Sophomore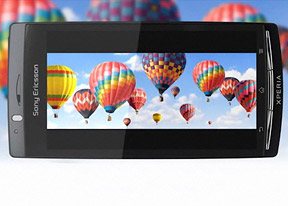 The usual gallery
The Xperia arc S uses the traditional droid Gallery, which hasn't really seen much change in Gingerbread. It has good functionality, cool 3D looks and nice transition effects, but unfortunately only shows a downsized version of your images.
The different albums and folders appear as piles of photos, which fall in neat grids once selected. If you have online albums over at Picasa those show up as separate stacks as well.
You should have noticed the 3D switch by now at the top. It opens a different gallery section that stores only your 3D panorama shots. The standard camera photos and panoramas are in the familiar camera folder in the gallery.
To view the 3D panoramas, you need to connect your phone to a compatible 3DTV. We tried them on the LG Optimus 3D, but the device couldn't recognize them.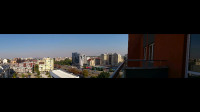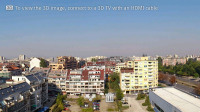 Viewing a standard panorama and a 3D one
Sony Ericsson has added support for Facebook albums too. They are distinguished by the small Facebook logo on them and when viewing individual pics from that album, you can "like" them with the thumbs up button in the upper right corner.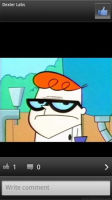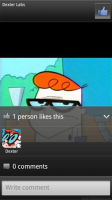 Liking photos is enabled for Facebook albums
Photos can be sorted by date with the help of a button in the top right corner, which switches between grid and timeline view.
The gallery supports finger scrolling or panning so you can skip images without having to return to the default view. Thanks to the Xperia arc S multi-touch support pinch zooming is also available here but you can also double tap or use the +/- buttons.
The Android gallery still shows only downsized version of you images, though if you send one from here the full-res shot is received on the other end.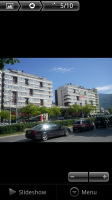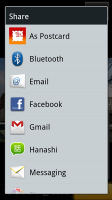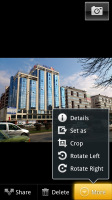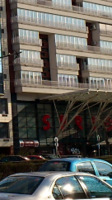 Unfortunately you are only getting downsized images here
Images can be cropped or rotated directly in the gallery. Quick sharing via Picasa, Email apps, Facebook, Bluetooth or MMS also comes in handy.
The BRAVIA engine enhances contrast and colors, as it sharpens the image and reduces noise. These steps would normally lead to artifacts, but the high-density screen of the Xperia arc S makes them invisible. You can switch BRAVIA off, but we recommend you keep it on - it really improves the image quality.
HD video playback, poor codec support
There is no dedicated video player app on the Xperia arc S as in most of the droids out there. Fair enough, maybe a fancy UI for picking a video is not that important, playing videos is what really counts. Well, that's another disappointment – the video player supports only 3GP and MP4 videos.
To its credit, the Xperia arc S did play a 720p MP4 video (but not 1080p). And the 4.3" FWVGA Reality screen offers excellent image quality (the BRAVIA engine comes into play here too) and spot-on aspect ratio.
If you re-encode your videos before hand, the Xperia arc S can make a good PMP. Or you could just download a capable video player off the Android Market and make your life easier. This would address other deficiencies of the Xperia arc S video player, like lack of subtitles.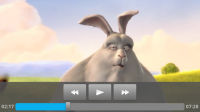 Watching a video on the Xperia arc S
Music player has Facebook likes
The music player on the Xperia arc S is the same app you get in the ray and the Xperia neo. The interface is laid out in four tabs for the available sorting options: all artists, all tracks, playlists and albums.
If you hit the menu key you'll get a search shortcut, as well as send and delete options.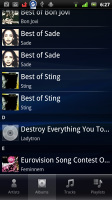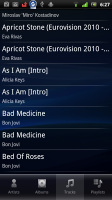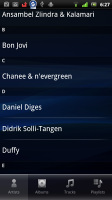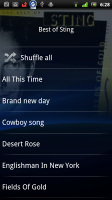 The music player is decent looking and snappy
The Now Playing screen offers nothing but the standard music controls, shortcuts to the library and the Infinite key. The latter lets you quickly look up a song on YouTube or browse for the lyrics.
The music fans will appreciate the rich selection of equalizer presets. You also get Silent mode, which mutes all other sounds except for alarms - great for uninterrupted listening.
The only available visualization is the album art.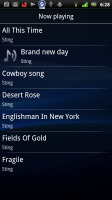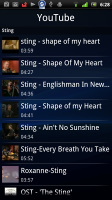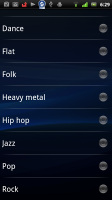 The Now Playing interface • The equalizer
Much like the Gallery, the Music player on the Xperia arc S lets you "like" tracks you're listening to, which posts it on your wall. Later on, you can discuss them with your friends through the Friends' music and videos app (sometimes called Media discovery). There's a widget too, so you can always be up to date with what you're friends are listening to.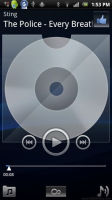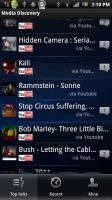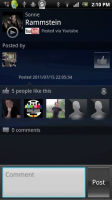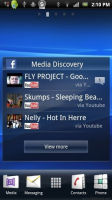 Giving a song the thumbs up • Media discovery app makes listening to music a social venture
FM radio with RDS, there is TrackID too
The Sony Ericsson Xperia arc S is also equipped with an FM radio, which has a really neat and simple interface. It automatically scans the area for the available stations and places "notches" on the frequency dial for easier scrolling to the next station. Or you can mark some of them as favorite.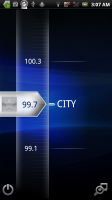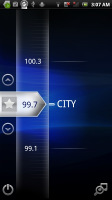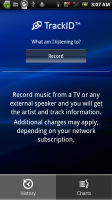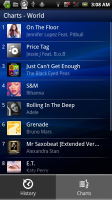 The FM radio app • TrackID • Charts
The TrackID service is also available and works within the radio app.
Nicely clean audio output
To say that the Sony Ericssno Xperia Arc S has similar audio output to its predecessor would be quite an understatement. In fact we are confident that not a sinlge element of the smartphone audio engine was modified in any way when the Arc got its new brains. We are not compaining, mind you. The Arc had pretty nice audio quality and the Arc S is just as good.
With an active external amplifier you are getting some really impressive scores. In that case the Sony Ericsson Xperia Arc S is reasonably loud and there's not a single result that's anything but excellent.
When headphones come into play there's some degradation here and there, most notably with stereo crosstalk and distortion levels. Still those are no worse than average and with the other scores pretty good, we'd give the Arc S very good mark on the second test.
And here go the results so you can see for yourselves.
| | | | | | | |
| --- | --- | --- | --- | --- | --- | --- |
| Test | Frequency response | Noise level | Dynamic range | THD | IMD + Noise | Stereo crosstalk |
| Sony Ericsson XPERIA Arc S | +0.11, -0.10 | -89.3 | 89.3 | 0.014 | 0.038 | -90.2 |
| Sony Ericsson XPERIA Arc S (headphones attached) | +0.41, -0.12 | -88.8 | 88.8 | 0.174 | 0.319 | -46.6 |
| Sony Ericsson XPERIA Arc | +0.12, -0.09 | -89.4 | 89.2 | 0.013 | 0.037 | -91.5 |
| Sony Ericsson XPERIA Arc (headphones attached) | +0.42, -0.12 | -89.1 | 88.8 | 0.179 | 0.314 | -46.6 |
| Samsung I9001 Galaxy S Plus | +0.15, -0.92 | -87.3 | 86.6 | 0.011 | 0.052 | -87.0 |
| Samsung I9000 Galaxy S Plus (headphones attached) | +0.25, -0.67 | -86.9 | 86.4 | 0.012 | 0.189 | -41.5 |
| Apple iPhone 4 | +0.01, -0.07 | -90.1 | 90.0 | 0.0068 | 0.012 | -89.6 |
| Apple iPhone 4 (headphones attached) | +0.01, -0.07 | -90.4 | 90.4 | 0.0036 | 0.092 | -68.4 |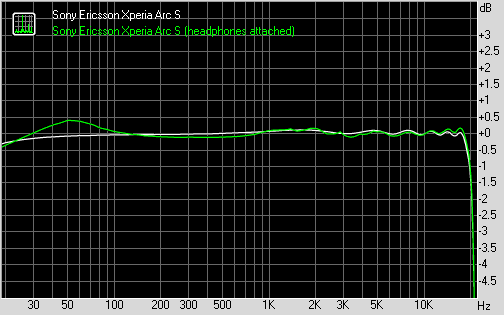 Sony Ericsson XPERIA Arc S frequency response
You can learn more about the whole testing process here.