No small affair
Sony Ericsson Xperia mini pro review: No small affair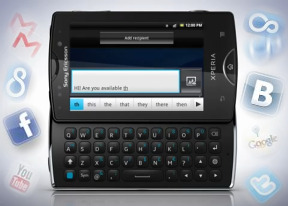 The Android Market you'll visit the most, but you have PlayNow too
The structure of the Android Market is quite simple – featured apps on top and three buttons (Applications, Games and My apps). There is also a shortcut up there for initiating a search.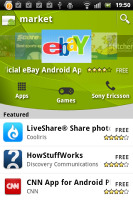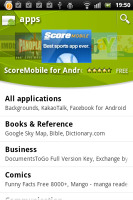 The Android Market • Market categories
The Applications and Games sections are divided into subsections (e.g. Communication, Entertainment etc.) so you can filter the apps that are relevant to you. Of course, there is also an option of displaying them all in bulk, but you'll probably need days to browse them all that way.
There are all kinds of apps in the Android market and the most important ones are covered (file managers, navigation apps, document readers etc.).
Sony Ericsson's own store called PlayNow is also on board. There you can get a lot of free things for your phone - wallpapers, some games and apps or even music tracks.
Final words
We're impressed with the Xperia mini pro, and can't hide it. Having tested many of the recent Sony Ericsson smartphones, we have to admit the difference between old and new Xperia has never been so sharp. Keeping it all so neat and compact while nearly putting the specs through the roof is a remarkable achievement.
Sony Ericsson have managed to squeeze an Arc's engine in the Xperia mini pro. The Reality display is here too, never mind it's a smaller HVGA unit. The real deal though is the proper QWERTY keyboard.
The Xperia mini pro runs Android 2.3 Gingerbread. Thanks to the lower screen resolution, the mini pro is as fast as possible - you can see that in the benchmarks and our demo video. The whole UI is fluid and responsive, there are no lags, nothing to annoy even the most demanding users.
The one thing missing, that you get with the Arc and the Neo, is the Exmor R camera sensor. There had to be something missing, right? We still think though that the 5 megapixel stills and HD video are more than enough in a handset that puts compact size first.
The Xperia mini pro is probably in a game that's virtually free of competition. It's hard to match the features and keep the price within limits. Keeping it that compact is harder still. We still have a few handsets in mind, in case you are willing to consider something different - for the most part it would mean settling for less.
To get the obvious out of the way, the Sony Ericsson txt pro is half the price of an Xperia mini pro. It's obviously not a smartphone but does the basic social integration, has all the needed connectivity and a QWERTY keyboard. It is basically the size of our guest of honor - the Xperia mini pro. It sounds like a deal if you don't need the complications of a smartphone.
Although a different form factor, the HTC ChaCha is an option to consider if QWERTY is a must. The ChaCha runs on Android Gingerbread too, but has room for a much smaller and less impressive display. Deep Facebook integration is a key feature, and users are welcomed by HTC Sense and the light and compact metallic body. It costs about as much as the Xperia mini pro.
We'll say it again though, it's hard to match the Xperia Mini concept - and Sony Ericsson are so far unchallenged in the ultra-compact class. To fully appreciate the Xperia mini pro, we just have to look back once again at the predecessor. The original Xperia X10 mini pro has a smaller low-res screen, an older generation 600MHz processor and the outdated Android 2.1 Eclair. If someone were to offer you a phone that addresses all those issues, would you not snap their hand off?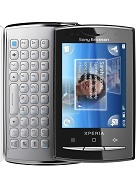 Sony Ericsson Xperia X10 mini pro
Maybe you would, or maybe you wouldn't. The Xperia mini pro should be looking forward to a bright future not only for its upgrade value. Compact phones may have little impact on a market moving steadily towards massive screens and tablets. But compact is a good way to make a difference. There are few phones that try. Fewer still do better than the Sony Ericsson Xperia mini pro.