A Flash-capable web browser
The XPERIA Neo's browser is a strong performer. With added Flash 10.1 support and the latest Android version, it really does a great job.
The user interface is minimalistic with almost no visible chrome by default. Once the page loads, all you see is the URL bar and the bookmark button at the top of the screen. Once you zoom in and pan around though even that disappears (scroll to the top or press menu to bring it back).
That way you have the entire 3.7" screen to fill with actual content. The Neo's browser supports three zoom methods: double tap, dedicated virtual controls and the multitouch pinch-zooming.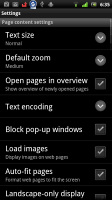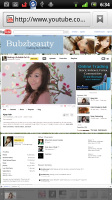 Settings • Playing Flash YouTube video
The minimalist UI is quite powerful – hit the menu key and six keys pop up. You can open a new tab, switch tabs, refresh the page, go forward, and open bookmarks. The last button reveals even more options (text copying, find on page, etc.).
One of the important new features in the web browser is the full Flash support. YouTube videos didn't play quite smoothly but we expect this to be sorted out in the production software. After all, there's a Snappdragon under the hood.
First impressions
An important thing we know at the end of this quick preview is it's worth waiting for the Sony Ericsson XPERIA Neo. And it's not going to be a long wait.
The Neo is a compact, handsome and powerful. It carries the best features Sony Ericsson have to offer nowadays: Reality display, an impressive 8 megapixel camera with Exmor R sensor, good HD video recording and the latest Android Gingerbread.
The Snapdragon platform with the Adreno 205 GPU is more than enough for the average user – and more than enough for a phone that isn't the typical high-end monster.
The 3.7 inch screen is ideally sized usability wise and the relatively thick profile is the only thing that can potentially put off smartphone/cameraphone aficionados.
Nevertheless, we're sure the XPERIA Neo will make itself quite comfortable in the upper midrange. It's a safe place to be and that where bestsellers are more likely to come from.
The Sony Ericsson XPERIA Neo is a well-built phone using the latest in hardware and software. It ticks the right boxes as a smartphone and does remarkably well as a cameraphone. There's an intriguing price tag hanging on it already, which doesn't look bad at all. We'll just have to see how the market feels about it.