More than a sequel
Sony Ericsson XPERIA Neo review: More than a sequel

Deep blue…Gingerbread
Sony Ericsson Xperia Neo runs Android 2.3 Gingerbread and Sony Ericsson have integrated it with the Timescape UI to make their products distinguishable.
The Sony Ericsson Xperia Neo runs on exactly the same software package as the Xperia Arc. There are no differences in the looks, performance or functionality so we'll be reusing portions of the Xperia Arc review.
Here's a short video demo of the Xperia Neo user interface.
Android 2.3 Gingerbread has brought lots of new APIs and extended the platform's gaming capabilities, but the interface elements haven't been drastically altered. And with Sony Ericsson skinning the whole thing it's even harder to spot the differences.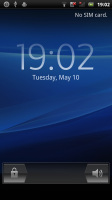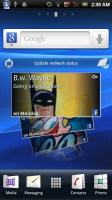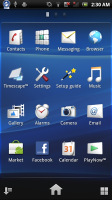 The Sony Ericsson Xperia Neo UI
What we particularly like is the Overview mode on the Sony Ericsson Neo. You pinch to zoom out on any of the 5 homescreen panes and a new pane sets in with a cool transition effect to display all of your active widgets.
It's similar to HTC's Leap view or what Samsung have on the Galaxy S. However widgets are not ordered in mini screens so you cannot see what's on each of them. Widgets are shuffled instead so they can better use the space. They are as big as possible and thus easier to press.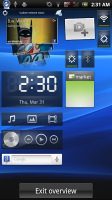 The Overview mode helps you find the widget you are looking for
The next thing to note are the four docked shortcuts (two either side of the launcher key) on the homescreen. Those are visible on all five homescreen panes and can be either single icons or folders with multiple items in them.
Creating folders is nice and simple, the way it's done on the iPhone. You drag an icon over another and a pop-up appears, prompting you to select a name and layout for the new folder.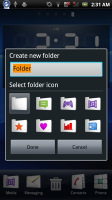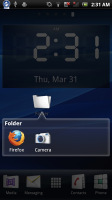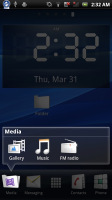 Creating folders is possible too
There are new animations when moving items around the homescreen, sorting them in folders or deleting them. There are no new wallpapers included in Gingerbread, but you can get as many as you want from the Android Market anyway. Sony Ericsson have included 24 static wallpapers and there are 11 live wallpapers too. You can also set a picture from your gallery.
Inside the main menu you will see shortcuts in the bottom corners. They let you sort your icons within the grid – you can either go for the automatic options (alphabetical, most used or recently installed) or you can manually move the icons.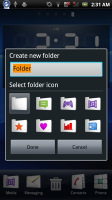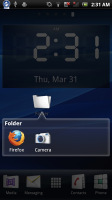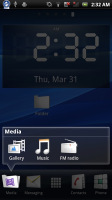 There are different sorting options for the app drawer
A new Sony Ericsson app called LiveWare is preinstalled on the Xperia Neo. It lets you set the behavior of your handset when paired with an accessory. You can have an app launch automatically when headset, headphones or a charger is connected. You can, for example make the Neo start the music player each time you plug-in your headphones or go to picture frame mode each time you connect a charger.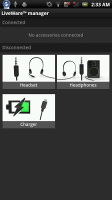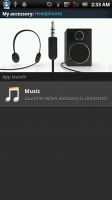 LiveWare lets you have an app launch automatically when an accessory is connected
Text selection is a major change in the user interface. Gingerbread really takes things to a whole new level by placing two large pointers either side of the marked text. You can then drag each of those easily to make the selection you need. It really doesn't get much simpler than that.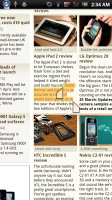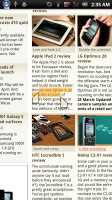 Text selection is improved in Android 2.3 Gingerbread
As far as general performance is concerned the Sony Ericsson Xperia Neo does splendidly. It uses a Qualcomm MSM8255 Snapdragon System-on-a-chip featuring a 1 GHz Scorpion CPU and the Adreno 205 GPU. The Gingerbread optimizations help too.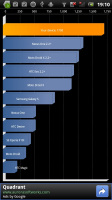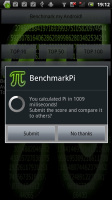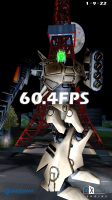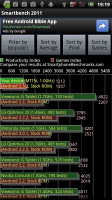 Xperia Neo is getting some excellent score on popular benchmarks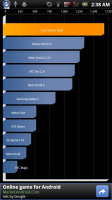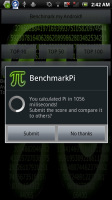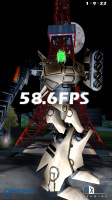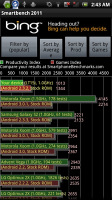 Sony Ericsson Xperia Arc benchmarks
But it's not synthetic benchmarks that we should focus on – the real life performance matters here and the Xperia Neo is smooth as silk. Sony Ericsson did a vastly better job this time than the Xperia X10 a year ago.
Timescape UI is here to stay
The Timescape brings all your communications together: an aggregate view of your SMS, MMS, email, call log, Facebook and Twitter updates. Timescape has a tabbed structure, allowing you to filter the contents by type and get all relevant information in one place.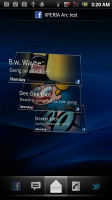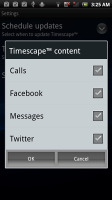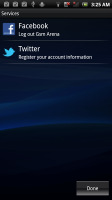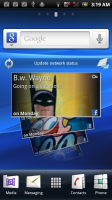 The Timescape app • The Timescape widget
With Timescape you can not only see the latest activities and updates from your contacts but also share your own status, reply to received messages or call back if you have a missed call.
The best part of the new Timescape is you can set it as a widget on you homescreen. It will show all of your updates as tiles. You no longer need to sacrifice all your homescreen estate. Good job!