FM radio with RDS, TrackID ids here too
The Sony Ericsson Xperia neo V is also equipped with an FM radio, which has a really neat and simple interface. It automatically scans the area for the available stations and places "notches" on the frequency dial for easier scrolling to the next station. Or you can mark some of them as favorite.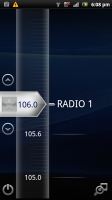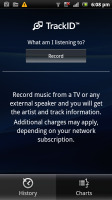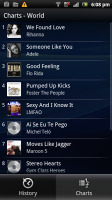 The FM radio app • TrackID • Charts
The TrackID service is also available and works within the radio app.
Audio quality is nicely loud and pretty clear
The Sony Ericsson Xperia neo V did marvelously in the first part of our traditional audio quality test. The smartphone got very good scores all over and garnished them with above average volume levels, making up for one of the better performances we have seen.
Sadly, things aren't as rosy when you plug in a pair of headphones as the stereo crosstalk raises quite a lot and some distortion creeps in. Volume levels also drop in this scenario so the overall performance is not quite as impressive as in the first test. It's not too bad, but audiophiles with high standard might not be completely satisfied.
And here go the results so you can see for yourselves.
| | | | | | | |
| --- | --- | --- | --- | --- | --- | --- |
| Test | Frequency response | Noise level | Dynamic range | THD | IMD + Noise | Stereo crosstalk |
| Sony Ericsson Xperia neo V | +0.11, -0.10 | -89.6 | 89.2 | 0.014 | 0.037 | -80.9 |
| Sony Ericsson Xperia neo V (headphones attached) | +0.36, -0.11 | -89.3 | 89.0 | 0.100 | 0.291 | -49.7 |
| Sony Ericsson Xperia pro | +0.11, -0.10 | -89.7 | 89.3 | 0.013 | 0.037 | -88.1 |
| Sony Ericsson Xperia pro (headphones attached) | +0.44, -0.13 | -88.7 | 89.0 | 0.343 | 0.326 | -39.7 |
| Sony Ericsson Xperia ray | +0.11, -0.10 | -89.4 | 89.1 | 0.014 | 0.037 | -91.3 |
| Sony Ericsson Xperia ray (headphones attached) | +0.47, -0.13 | -89.1 | 88.8 | 0.357 | 0.351 | -39.0 |
| Sony Ericsson XPERIA Arc S | +0.11, -0.10 | -89.3 | 89.3 | 0.014 | 0.038 | -90.2 |
| Sony Ericsson XPERIA Arc S (headphones attached) | +0.41, -0.12 | -88.8 | 88.8 | 0.174 | 0.319 | -46.6 |
| Sony Ericsson Xperia mini | +0.11, -0.10 | -88.7 | 88.5 | 0.016 | 0.038 | -90.6 |
| Sony Ericsson Xperia mini (headphones attached) | +0.21, -0.09 | -88.3 | 88.0 | 0.090 | 0.206 | -58.4 |
| Sony Ericsson W8 | +0.08, -0.23 | -86.8 | 88.7 | 0.027 | 0.131 | -84.1 |
| Sony Ericsson W8 (headphones attached) | +0.32, -0.18 | -86.6 | 86.3 | 0.098 | 0.323 | -58.2 |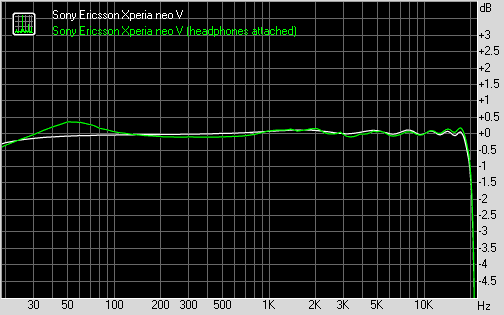 Sony Ericsson Xperia neo V frequency response
You can learn more about the whole testing process here.
The camera loses the ExmorR sensor, now offers 5 megapixel
The major change on the neo V, as we discussed in our introduction, is the camera department. Unfortunately the neo has lost the ExmorR sensor and a few megapixels. It now features a 5 megapixel snapper and a single-LED flash.
The camera controls on the Xperia neo V are familiar - they are available on two taskbars on either side of the viewfinder. The left one holds five shortcuts to various settings, while the right one shows thumbnails of the five most recent photos.
You can pull to expand the settings taskbars or push them out of sight. It's a clever solution that lets you pick how much of the camera controls are seen in the viewfinder. The shortcuts in the left column can be rearranged and you can replace some of them with others from the extended menu.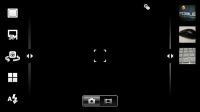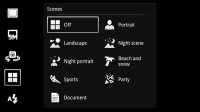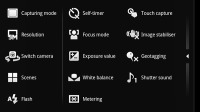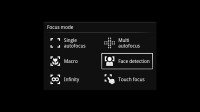 The Xperia neo V camera interface
You can choose between five capture modes - Normal, Scene recognition, Smile detection, Sweep Panorama and 3D Sweep Panorama. In Normal, you pick the Scene settings manually or you can enable Scene recognition and let the Xperia neo V take a guess (it's fairly good at it).
The two panorama modes are the additions brought by the Android 2.3.4. The Sweep Panorama option is available in lots of Sony portable cameras, so it should be familiar to some of you. Anyway, it's very easy to take a panorama - you just follow an on-screen slider until you reach the end and your panorama shot is taken. Unfortunately, you can't choose how long it will be, you have to shoot it until the slider run out. If you are too slow or too fast you'll have to start over.
Depending on which panorama mode you have chosen, you will be able either to view your 2D shot (4912x1080 pixels) on your neo V or take it on a 3D TV and see it there.
Other settings include changing the resolution, toggling between front/back camera, photo light (but it's switched manually, not automatically as a flash), geotagging, image stabilization and focus mode. Also at your disposal are a self-timer, shutter sound, exposure, white balance and metering settings.
The image quality is good, but it could have been better. The colors and the contrast are good too, while the amount of captured detail is just average. Noise levels are kept relatively low but there is some color noise. Photos have good contrast and good (though slightly oversaturated) colors. Some over sharpening is evident in high-contrast areas, but nothing drastic.
Here are a few samples we took with the neo V.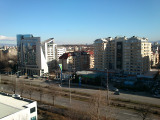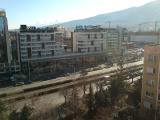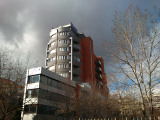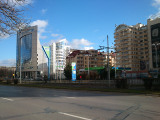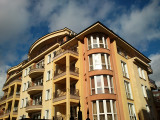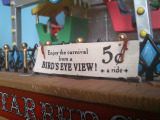 A couple of Sony Ericsson Xperia neo V camera samples
The panorama shots are captured with 4912x1080 pixels resolution and if you take them with a tripod they will be assembled perfectly. If not, you'll be surprised to out the pictures are almost as good as tripod enhanced ones.
The pano shots quality is the same as the standard ones - lack of detail, but other than that satisfying contrast and colors. Forgive the weather around though, the combination of close sunlight, low clouds and mist isn't the best scene for a smartphone to shine.
Photo quality comparison
We've also added the Sony Ericsson Xperia neo V to our Photo Compare database. The tool's page has a quick how to guide.
Quite expectedly the neo V performed very well on all the three charts, producing enough amount of detail (although we still can tell other Xperia phones do better) and pleasant colors. We saw some fringing in high-contrast areas again.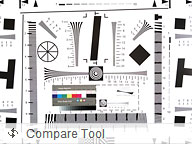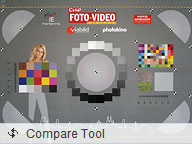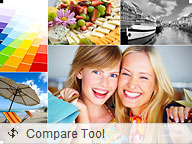 Sony Ericsson Xperia neo V in the Photo Compare Tool
Smooth 720p video recording, average quality
The Sony Ericsson Xperia neo V captures 720p video at 30 fps. The camcorder has similar settings to the still camera - focus mode, metering, exposure value and image stabilization are all user-configurable.
The neo V camcorder joins the select few with continuous autofocus. It may take a few seconds to refocus after you re-frame but that's better than repeating attempts to lock focus that may ruin a video.
Videos are stored in MP4 format (6Mbps bitrate) and the frame rate nails the 30fps mark. The amount of captured detail is average though, but the colors and contrast are good. The amount of detail drops a bit in the dark as noise reduction fights to keep videos mostly noise free. Some extreme over sharpening is present in some scenes too.
The neo V videos come with stereo sound recorded at 128Kbps bitrate and 48kHz sampling.
Check out the 720p samples that we captured with the Xperia neo V:
If you want to look closer at the video quality, you can download this untouched sample 720p@30fps, taken straight off the device.
Video quality comparison
We entered the Sony Ericsson Xperia neo V in our Video Compare Tool database too and put it head to head with other 720p mobile camcorders. The results are a mixed-bag and you can easily find a lot better HD camcorders (Xperia smartphones included). It seems the video recording, although smooth, is not one of the neo V's strong sides.