User interface
The Sony Ericsson XPERIA Play has Android Gingerbread inside not without some home-brewed customizations.
It's not much different from the Neo and Arc actually. The Mediascape add-on is out of the equation and the phone uses the vanilla Android. The proprietary Timescape UI is still here though.
We've got a video to demonstrate the XPERIA Play UI. Check it out below.
Sony Ericsson obviously tried to put their stamp on the stock Android Gingerbread but overall the interface hasn't been dramatically changed, just polished.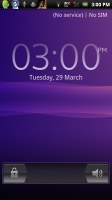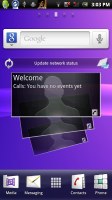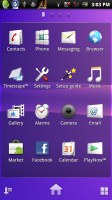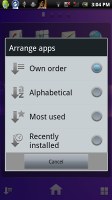 The Sony Ericsson XPERIA Play Homescreen and Menu
The homescreen Overview lets you pinch zoom out of any of the 5 homescreen panes to a new screen. It's an aggregate view of all your active widgets.
There are four docked shortcuts (two either side of the launcher key). They are visible on all 5 home screens and can be edited: they can be either single icons or folders with multiple items in them.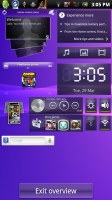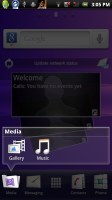 Homescreen overview • Media tab • Creating folders
Creating folders is very easy and intuitive. All you need to do is drag an icon over another and you're prompted to choose a name and layout for your new folder.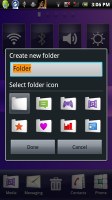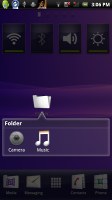 Creating a folder • Opening a folder on the Homescreen
There are a number of static and live wallpapers to choose from. To set wallpaper you hit the menu button and select the Wallpaper icon. You then get to choose between Gallery images, Live wallpapers and custom Sony Ericsson wallpapers.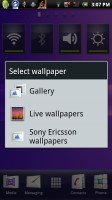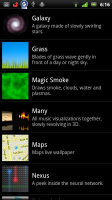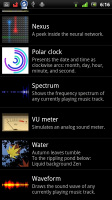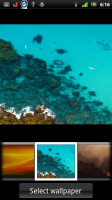 Selecting a wallpaper for the Homescreen
Placing a widget on the homescreen is no rocket science, either. You just hold your finger on an empty spot on the screen to open the add-to-homescreen popup. It lets you add shortcuts, widget or folders, as well as set a wallpaper image. Alternatively, you can just hit the menu button and then select "add".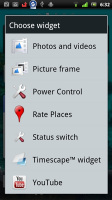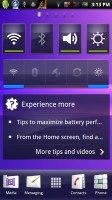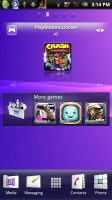 Choosing widget • Custom screen • Special XPERIA Play widgets
The notification area is a trademark Android feature. The pull-down notification bar displays recent events, as well as running apps. Holding down the Home button launches the task manager.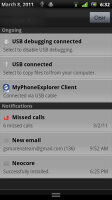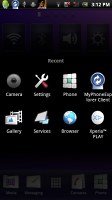 Notification area • Recently used apps pop-up
Text selection is a major change in the user interface. Gingerbread really takes things to a whole new level by placing two large pointers either side of the marked text. You can then drag each of those easily to make the selection you need. It really doesn't get much simpler than that.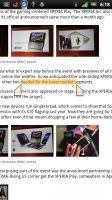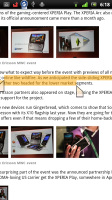 Text selection on Android Gingerbread
As to benchmarks, we'd advise you to take the results with a pinch of salt. Our XPERIA Play unit is a pre-release unit and may not really be combat ready. You'll notice that in some ways it performs worse than the XPERIA Neo, which should change once we have a proper finalized product. On Quadrant, the XPERIA Play got 1623 points which is a little better than the Neo's 1441.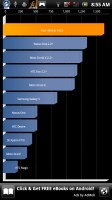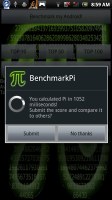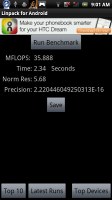 Sony Ericsson XPERIA Play benchmark scores
The general feel of the phone is fluid and fast. There were no hiccups with the XPERIA Play. Credit goes to the Qualcomm MSM8255 Snapdragon 1GHz chipset. The amount of user available RAM is 380MB (from 512MB of total RAM).