Bring your 'A' game
Sony Ericsson XPERIA Play review: Bring your 'A' game

Google Maps and navigation
The Sony Ericsson XPERIA Arc comes with a GPS receiver, which locked onto satellites in just under a minute with the A-GPS turned off.
Google Maps is the main application and its Street View mode is probably the best part of the deal in places where turn-by-turn voice navigation isn't yet offered. If the Street View is available in the area you're interested in, you can enjoy a 360-degree view of the area. Zoom is supported through pinch and double tap gestures. When the digital compass is turned on, it feels like making a virtual tour of the surroundings.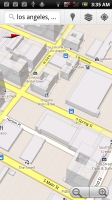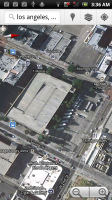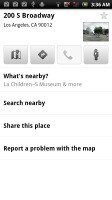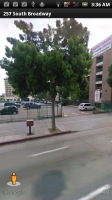 Google Maps 5.0 with Vector 3D maps and Street View
Turn-by-turn voice guidance using Google Maps Navigation is only available in select countries and unless you live in one of them the best you can do is plan a route in advance and keep an eye on your current location during travel. Or go to the Android Market and pick up a dedicated navigation app, which would get the job done for your region.
Our XPERIA Play came with Maps 5.0 preinstalled, which gives you access to some great features. Offline rerouting is one – if you stray off course, Maps will recalculate the route without the need for an Internet connection. You can't change the destination without connection though. There are also 3D buildings (where available), two finger rotation, tilting and so on. It borrows from the Google Earth app and it's really cool with all the features and effects combined.
Android Market
The XPERIA Play runs the latest version of Android and has a WVGA screen, giving you access to the whole Android Market (some apps won't run on older versions or low-res screens).
The structure of the Android Market is quite simple – featured apps on top and three buttons (Applications, Games and My apps). There is also a shortcut up there for initiating a search.
The Applications and Games sections are divided into subsections (e.g. Communication, Entertainment etc.) so you can filter the apps that are relevant to you. Of course, there is also an option of displaying them all in bulk, but you'll probably need days to browse them all that way. But many apps are duplicated in the market and many are just plain unusable for you, so keep an eye only on the ones you like or need.
There are all kinds of apps in the Android market and the most important ones are covered (file managers, navigation apps, document readers etc.).
At the Arcade
The Sony Ericsson XPERIA Play launched this mounth in many contries and as promised Sony Ericsson delivered more than 50 games for it. Now these aren't new games, most of them anyway, they're optimized for the special Play controls. PS1 games are pretty limited so far and are region-specific. Currently they are under 10 overall.
This isn't all bad though, because PS1 games are bound to find their way to the Play officially eventually and the current Android ones aren't necessarily worse than the original PlayStation titles. Some of them may even be better. For example Backstab HD was launched exclusively for the XPERIA Play and it's a great game with solid graphics and gameplay.
The first game we found preinstalled on the Play is Crash Bandicoot. Being an original Playstation 1 title, it's displayed in the PlayStation widget.
It makes use of all of the hardware controls and is a good way to get a taste of the promised PlayStation experience on the XPERIA Play.
The next title is Bruce Lee: Dragon Warrior, probably an XPERIA Play-exclusive game, which we couldn't find at the Android Market. This game however is also available for Bada OS and iOS (including an HD version for the iPad).
In Star Battalion you are a space craft pilot on missions against land and air targets. It, too, makes use of the hardware controls of the XPERIA Play, even the left and right pads and the virtual control sticks.
The sports genre is represented by FIFA 10. Having played it on the iPhone and Android handsets, comparison is overwhelmingly in the XPERIA Play's favor.
While playing around with the Play we installed the PSX4Droid emulator, which is currently being downloaded free, courtesy of its creator, developer ZodTTD.
The PSX4Droid enables you to port PlayStation 1 games on Android and iOS devices. It's a great emulator and we tested a title, probably known to all console fans – The King of Fighters. It's a Street Fighter type of a game with a unique, for its time anyway, game-playing style.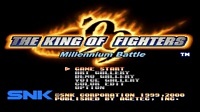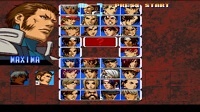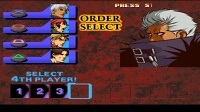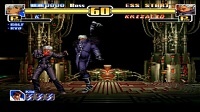 PSX4Droid 4 PS1-ported game The King of Fighters
It was really cool to enjoy this game on a mobile phone. Sure it's like at the arcade but it was still impressive.
The controls of the XPERIA Play made a huge difference and we're very easy to set up. The game, naturally, didn't lag at all and there were no crashes whatsoever.
This is just a preview of what could potentially be a gaming revolution for Android if we see more "PlayStation-certified" devices. When Sony Ericsson eventually port enough games from the original PlayStation 1 to the Play gaming enthusiast will have a huge amount of titles to choose from. This could, potentially tip the scales from iOS to Android's favor.
Here's a demo video of playing a PS1 game on the XPERIA Play.