Android 2.3.4 all over the UI
The Sony Ericsson Xperia pro comes with Android 2.3.4 preinstalled. We already saw this version running on the Xperia arc S, but in case you've missed it, let's go over the new features available. Among other things, the 2.3.4 update brings screenshot functionality, enhanced Facebook integration, swipe text input and USB on-the-go.
We have a video of the user interface in action, which is a good starting point.
As usual the Xperia pro has a five pane homescreen (you can't add or delete panes), with four docked shortcuts (two on either side of the launcher shortcut). Those are visible on all five homescreen panes and are user configurable: they can be either single icons or folders with multiple items in them.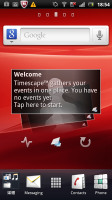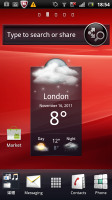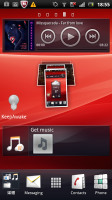 The Sony Ericsson Xperia pro UI
The homescreen also does a neat trick called Overview mode. Pinch to zoom out on any of the 5 homescreen panes and a new screen opens up with a cool transition. All your widgets gather there and you can click the one you want and go to its screen.
In terms of functionality, it's similar to the HTC Leap view or what Samsung do in TouchWiz. However widgets here are not crammed in small hard-to-read screens. Instead, they're all shuffled on a single screen, so they can better use the space and remain as big as possible.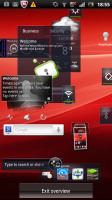 The Overview mode helps you find the widget you are looking for
The Xperia pro has some custom-made Sony Ericsson widgets in addition to the standard set. Those include the Timescape widget (there's a dedicated app too) and a Mediascape-like widget for photos and videos (the actual app isn't there anymore, the standard gallery is back).
The app launcher puts shortcuts in the bottom corners. They let you sort your icons within the grid. You can either go for the automatic options (alphabetical, most used or recently installed) or you can manually shuffle the icons.
Creating folders is simple, using the iOS logic (and visual layout). You drag one icon over another and a pop-up prompts you to select an icon and a name for the folder you're about to set up.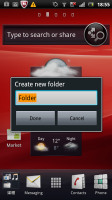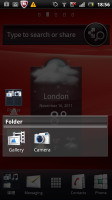 Creating folders is possible too
The lockscreen is standard Xperia fare. Which means you get notifications for Facebook events too. The standard notification area and task switcher are of course present and accounted for.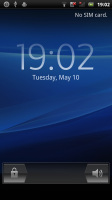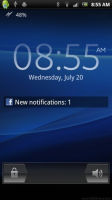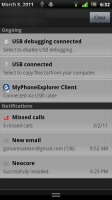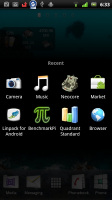 The lockscreen features Facebook integration • The standard notification area and task switcher
There is one more thing worth mentioning - the Take Screenshot shortcut. It's found in the power settings and you need to press and hold on the Power/Lock key to access it. It would have been better if Sony Ericsson has made it with a combination of two keys (like the iOS's Home+Lock combo) rather than a virtual shortcut, but at least it's there.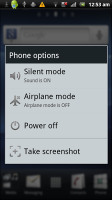 The Take a screenshot shortcut
Timescape UI
The Timescape brings all your communications together: an aggregate view of your SMS, MMS, email, call log, Facebook and Twitter updates. Timescape has a tabbed structure, allowing you to filter the contents by type and get all relevant information in one place.
With Timescape you not only see the latest activities and updates of your contacts but also share your own status, reply to received messages or return a missed call.
The best part of the new Timescape is that you can set it as a homescreen widget. It will show all of your updates as tiles. You no longer need to sacrifice all your homescreen real estate.
If all these functions are not enough, there are free Timescape plugins on the Android Market for Sony Ericsson users. There are already plugins for mixi, Foursquare, Orkut, Gmail, Music, Photo, etc. extensions.
Benchmarking the Xperia pro
The Snapdragon chipset has been around for a while and we know what to expect from it in terms of performance.
Sony Ericsson already used this chipset in most of its latest smartphones. As we suspected the Xperia pro showed similar results on the synthetic benchmarks as the Xperia ray. The video benchmarks are on par too.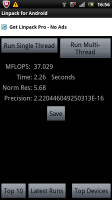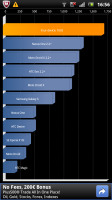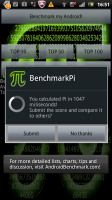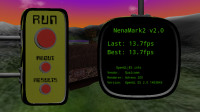 Sony Ericsson Xperia pro (1GHz CPU, 512MB RAM, Adreno 205, Android 2.3.4)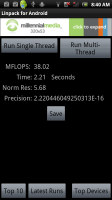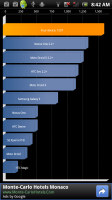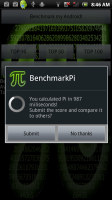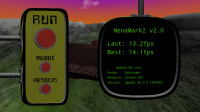 Sony Ericsson Xperia ray (1GHz CPU, 512MB RAM, Adreno 205, Android 2.3)