Excellent organizing skills
The Sony Ericsson Xperia pro comes with a solid set of organizing options, including a document viewer.
The app in question is OfficeSuite and it has support both for viewing (Word, Excel, PowerPoint and PDF, including the Office 2007 versions) and editing/creating (Word, Excel and PowerPoint) document files.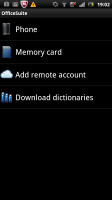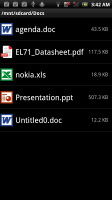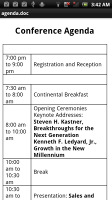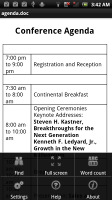 The OfficeSuite
Reading documents is quite comfortable on the high-resolution screen and panning is blazing fast.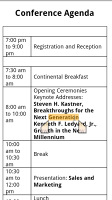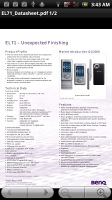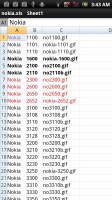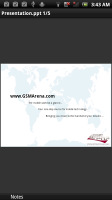 The OfficeSuite enables you to view, edit and create Office documents on Xperia pro
The doc viewer integrates with both Gmail and the generic email app, which makes viewing attachments a cinch. The generic Email app even lets you download the attachments.
The calendar has three different types of view - daily, weekly and monthly. The lower section of the screen is reserved for Agenda: a list of upcoming events. Adding a new event is quick and easy, and you can also set an alarm to act as a reminder.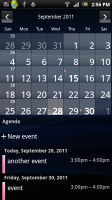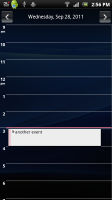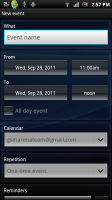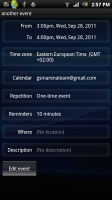 The organizer centerpiece - the calendar
The Calendar also pulls info on upcoming events from your Facebook account. Events appear just like regular events but you can't edit them from the phone, they are read-only.
There is also a calculator aboard. It is nicely touch optimized - the buttons are really big and easy to hit. You can pull out advanced functions (trigonometry, logarithms) from the menu.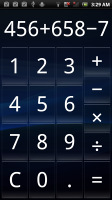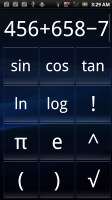 Regular Calculator • Scientific Calculator
The alarm clock app allows a huge number of alarms to be set, each with its own start and repeat time. The Alarms app can also work as a desk clock - you have a big toggle for the brightness, weather info and shortcuts to gallery slideshow and the music player.
Unfortunately, you don't have the Stopwatch, Timer or World Clock options. You don't get a Voice Recorder either. There's plenty of those in the Android Market though.
Navigation: Google Maps and Wisepilot
The Sony Ericsson Xperia pro comes with a GPS receiver, which took less than 3 minutes to get satellite lock from a cold start. You can use the A-GPS functionality to get near instantaneous locks or the network positioning if you only need a rough idea of your location.
Our unit came with Maps 5.6.2 out of the box, which gives you access to some great features. Offline rerouting is one – if you stray off course, Maps will recalculate the route without the need for an Internet connection. You can't change the destination without a connection though. There are also 3D buildings, two finger rotation, tilting and so on.
Of course, those features aren't available everywhere. 3D buildings are available mostly in the biggest world cities.
Turn-by-turn voice guidance using Google Maps Navigation is only available in select countries and unless you live in one of them the best you can do is plan a route in advance and keep an eye on your current location during travel.
Street view is, as usual, a part of the standard package - it gives you a panoramic view of every bit of road in the covered areas. With the compass mode enabled, it feels like a virtual tour of the place!
Our Xperia pro came with Wisepilot pre-installed with full navigation license. It took it really long to get a GPS lock with every GPS setting turned on, but then it does what a SatNav software is supposed to - navigate (with voice guidenace). There are weather and traffic information too.
We just can't promise you your Xperia pro will also come with the same Wisepilot license, it may be a market-dependent.
Android Market keeps expanding with apps
The Xperia pro runs the latest version of Android and has a FWVGA screen, giving you access to the whole Android Market. The MSM8255 chipset should be able to handle most apps in there too.
The Android Market had another visual boost lately plus a layout redesign. Now you get a few scrollable tabs - categories, featured, top paid, top free, top grossing, top new paid, top new free and trending. This organization reminds a lot of the Apple's App Store.
The in-app section is untouched though and we still find it quite unattractive.
There are all kinds of apps in the Android market and the most important ones are covered (file managers, navigation apps, document readers etc.).