I see through you
Sony Ericsson XPERIA Pureness review: I see through you

Introduction
Luxury phones are having a tough time being unique nowadays. The Sony Ericsson XPERIA Pureness is having a hard time being… luxurious. But that's no way to start a proper review now, is it?
There we go again then. Rare metals and precious stones are commonplace, but a transparent screen? Now, that's a first. The Sony Ericsson XPERIA Pureness keeps only the essential phone functions and that explains the Pureness moniker. And just like a proper luxury phone, it comes with a concierge service.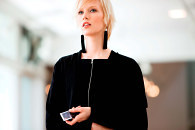 Sony Ericsson XPERIA Pureness official photos
You can access the concierge service 24/7 via a phone call or email and have them book you a hotel room, buy tickets for a game or ask for advice. But it's not just a simple booking service – going through the concierge service has some perks, like free room upgrades in some hotels, discounts (well, well), complementary champagne and so on.
You see, the luxury of owning a Sony Ericsson XPERIA Pureness doesn't just come from what's in the phone itself. But since we're not going to be using the concierge service anytime soon, let's focus on what the phone has to offer:
Key features:
Quad-band GSM support
3G with HSDPA and HSUPA support
One-of-a-kind transparent greyscale display (1.8", 240 x 320 pixels), scratch-resistant surface
Very lightweight, only 70 grams
FM radio with RDS and TrackID
Bluetooth with A2DP and USB (Fast Port connector)
2 GB internal memory
Smart dialing
Excellent audio quality
Main disadvantages:
Small screen is poor on legibility
Looks cheap and poorly built
Fast Port instead of 3.5 mm audio jack means limited use as a music player
Fast 3G connectivity with HSDPA/HSUPA is only usable for tethering
No camera
Non-removable battery
Internal memory not expandable
A phone with a transparent screen is nothing short of unique. But the display certainly is a liability in terms of actually using the Sony Ericsson XPERIA Pureness. It limits the physical space available inside the phone, leaving Sony Ericsson engineers with very little room to work with.
Plus, the low-resolution greyscale display makes a camera (even just a video call camera) and proper web browsing pointless. This leaves tethering as the only reasonable use for the fast 3G data.




The Sony Ericsson XPERIA Pureness impresses with its transparent display
But the Sony Ericsson XPERIA Pureness is not a gadget. Rather it takes the concept of pureness and runs with it – by leaving out all the distracting features. Only the essence of a phone remains and the transparent screen acts as the perfect metaphor for this.
On the next page, we look through the hardware. Literally.
K
Sonny e phone glassic screen find in india in which stats.....
D
"It's a phone like no other: the point of its screen is to be transparent, not legible."