This article is outdated. We have already published a full review.
Introduction
With the X10 Sony Ericsson have gone from zero to hundred in a split second. While they may know their way around high-end devices, pulling off an undertaking such as the XPERIA X10 must have been a special challenge. And they have yet to get to the finish.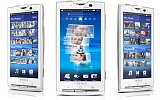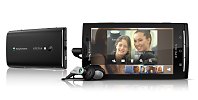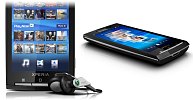 Sony Ericsson XPERIA X10 official photos
The thing is that Sony Ericsson XPERIA X10 is the first Android smartphone by Sony Ericsson. It's also a Snapdragon first for the company, and they've even come up with a first of its kind proprietary Android UI. Making the X10 a reality seems like a long way full of potential pitfalls for a company that hasn't still recovered from its financial woes.
But the XPERIA X10 or Rachael, or X3, or whatever it has been called in the long months of development, seems like a device that's worth all the hard work.
Even more so, X10 will not be a solitary device but more of a high-flying start for a full-blown platform of Android devices with their own distinct interface and user experience. That kinda sounds familiar. A year and a half ago, we were again there listening to Sony Ericsson presenting the XPERIA X1 in much the similar words. Well, let's hope they'll have better luck with starting off and developing this new part of their portfolio this time.
We had the pleasure of attending a very limited press event held in London, at which Sony Ericsson presented their latest and greatest before they showcase it for the general public. Much like attending a press-only movie screener we had the opportunity to gather some first-hand impressions of what is probably going to be the Sony Ericsson flagship next year. But before making our first go at the XPERIA X10, let's recap its features.
Sony Ericsson XPERIA X10 at a glance:
General: GSM 850/900/1800/1900 MHz, UMTS 900/1900/2100 MHz, HSDPA, HSUPA
Form factor: Touchscreen bar phone
Dimensions: 119 x 63 x 13 mm, 135 g
Display: 4" 65K-color TFT capacitive touchscreen, 854 x 480 pixels
Platform: Qualcomm QSD8250 Snapdragon 1 GHz processor
OS: Android 1.6 (Donut)
Memory: 1GB storage, 384MB RAM, microSD card slot, 8GB card included in the retail box
Camera: 8 megapixel auto-focus camera with LED flash and face detection
Connectivity: Wi-Fi, Bluetooth 2.1 with A2DP, standard microUSB port, GPS receiver with A-GPS, 3.5mm audio jack
Misc: Sony Ericsson custom social networking and media UI, built-in accelerometer
There have been numerous leaks about the XPERIA X10 so chances are you already know most of those specs well enough. As to the few new ones, let us assure you that some of those came as a surprise to us as well.





Sony Ericsson XPERIA X10 presentation for the press
Take the Android OS version, for instance. Despite all the hopes for getting the latest and greatest of the Android crop, Sony Ericsson are serving a cold meal to all the gadget lovers out there. They refused to comment any further on the matter but perhaps all is not lost. Our best guess is they'll have some hard time adjusting their proprietary UI for Android 2.0 (Eclair) so they prefer to stick to 1.6 for the time being in an effort to get the XPERIA X10 out in the market as soon as possible.
And the current plans for the X10 availability say Q1 2010. Yup, missing the holiday season and shipping the handset during the tight-pocketed January and February is certainly the last thing they'd like to do, but proper product development obviously demands it.
Speaking of which, the Sony Ericsson X10 units presented at the event were devilishly fast in all Android tasks and applications, but the proprietary UI by Sony Ericsson clearly needed a lot more work.
But let's not waste any more time and jump into the physical details of the Sony Ericsson XPERIA X10.
D
Walao!!! Cool,i love Sony phone. Like it 99x.
n
I love the phone, but i can't use the internet because it came from Australia. Is there a possibility to reformat the phone here in the Phils. Thanks
p
this x10 is superbbb. but no dual cam, and redio.